To ensure you're off to the best start, we have created a full calendar of support and training workshops leading up to the first day of classes  from August 9 to September 3.
Orientation Day is Tuesday, September 7 
Register Here>
This will be a day to be welcomed to Sault College and meet your faculty virtually, with a chance to win some prizes.  
We've also provided  a helpful intro video  and additional  sections   to help you get to the appropriate campus entrance, to plan your trip with Sault Ste. Marie bus routes and learn how to get your Welcome Pack.
Workshops, Entrance Info, Bus Routes, Welcome Packs and    Orientation Day  information is    specific to Sault Ste. Marie campus only. Stay tuned to these pages for up to date info as the first day of class    nears.
Classes on your timetable will officially begin Wednesday September 8.
*Timetables and booklists will be available mid-late August.
Are you  a student at the Brampton or Toronto campus? 
For Orientation info for these campuses, visit Brampton and Toronto Orientation.
Find a schedule of online workshops to attend from August 9 to September 3, to help you prepare for your first year at Sault College.
Get information about where to enter Sault College when you arrive, including a map to help you find your way.
If you'll be taking the bus to get to Sault College, find out about the closest bus stop and how to get to campus from there.
Get details on how to pick up your Welcome Pack at Sault College from August 16 to September 2.
A virtual welcome to Sault College on September 7, with the opportunity to meet your faculty and win prizes. Register now.
Find information for Orientation at Brampton and Toronto campuses.
You Could Win a $250 Gift Card
Complete our First Year Student Survey online by Friday September 24th, for a chance to win 1 of 4 $250 gift cards! Winners will have the choice of a Visa and Mastercard gift card, grocery gift card or a Bookstore gift card.
First Year Student Survey >

*For Sault Ste. Marie campus students only.
Have Questions?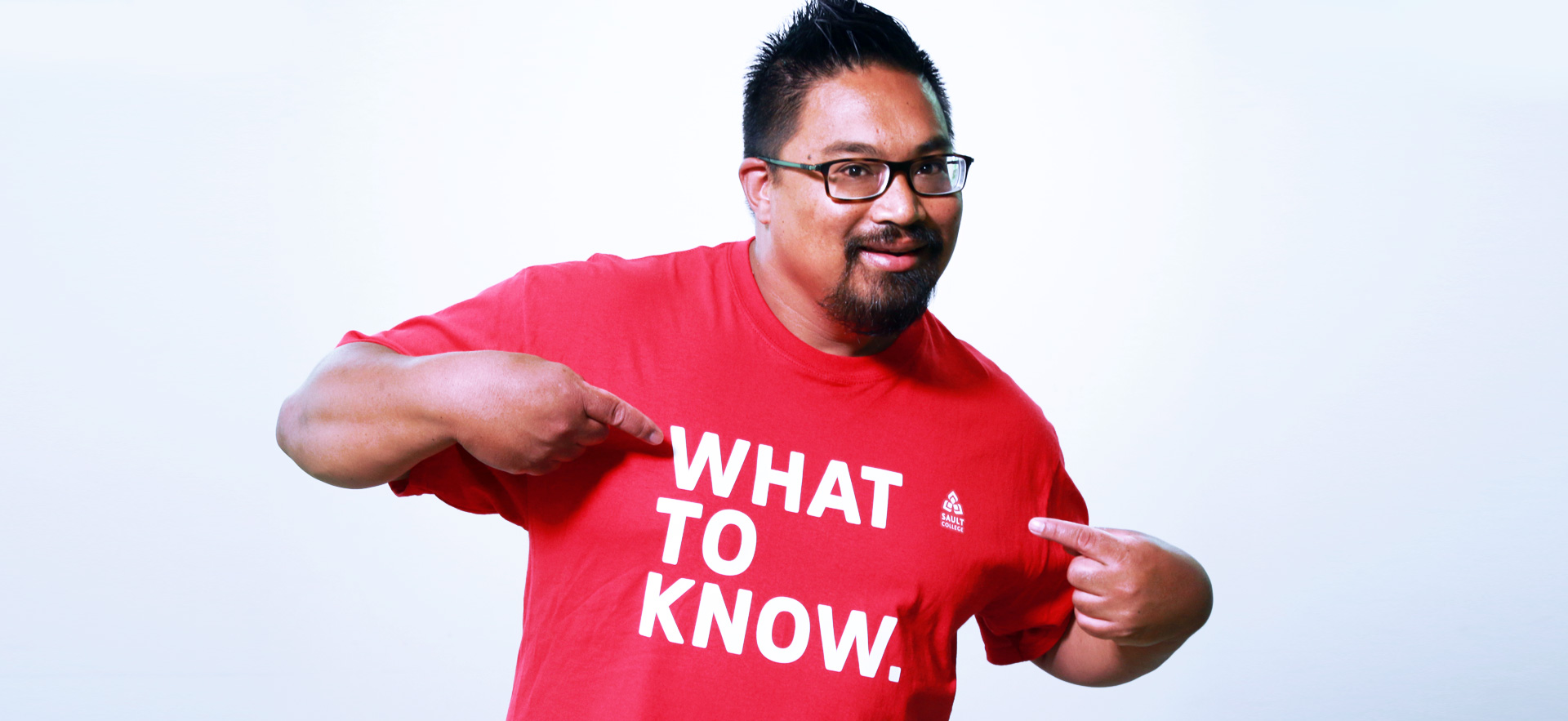 Look for the Red Shirts!
During the first week of classes,  you will find Ray, Mel and Allie of the Recruitment team  at the F-Wing entrance    and in the common link - and they'll be    wearing  these red  What  To  Know  t-shirts. They'll be  available to help you find your way and answer your questions.  Don't be shy! 
Email us!
We are here for  you! If you have any questions, do not hesitate to email one of our Orientation staff here  orientation@saultcollege.ca
Social Media
Follow us on social media  for important information, events and amazing supports available throughout the year.
Sault College
Facebook   |   Instagram | Twitter
Sault College Students' Union
Facebook   |   Instagram  | Website
Indigenous Student Union
Facebook | Instagram  
Sault College Success
Facebook | Instagram | Twitter