Overview
The Occupational Therapist Assistant and Physiotherapist Assistant (OTA & PTA) program will prepare you to help people with illness, injury or disability increase their independence and overcome challenges of daily life.
Through a combination of theoretical and practical learning in the classroom, laboratory, and field placements you will gain the core skills and hands-on experience to meet the demands of an occupational therapy assistant and/or physiotherapist assistant.
Program highlights include: 
Learning to assist individuals to regain or maintain independent function and mobility
Participating in exciting fieldwork activities beginning in the first semester and gaining valuable clinical skills from experienced clinicians in a variety of work settings
Experiencing student-centred learning in class and in small labs, with professors who are also clinicians in the field
An on-site physiotherapy clinic that provides assessment and treatment while offering students fieldwork placements
Opportunities to further your education and pursue a degree by transferring to partnering universities
Once you complete the Occupational Therapist Assistant and Physiotherapist Assistant program, you`ll have the knowledge and skills to work alongside registered occupational therapists and physiotherapists to provide a vital healthcare service and improve people's quality of life. Interested in continuing your training education and earn your degree? We've got you covered! Because of our partnership with universities such as Lake Superior State University, Lakehead University and even Northampton in the UK, you can transfer specific credits earned toward achieving a university degree in programs such as Kinesiology. It's easy and it's awesome! You were meant to help those in need. And we think that's so cool! Get started at Sault College. 
Media
Image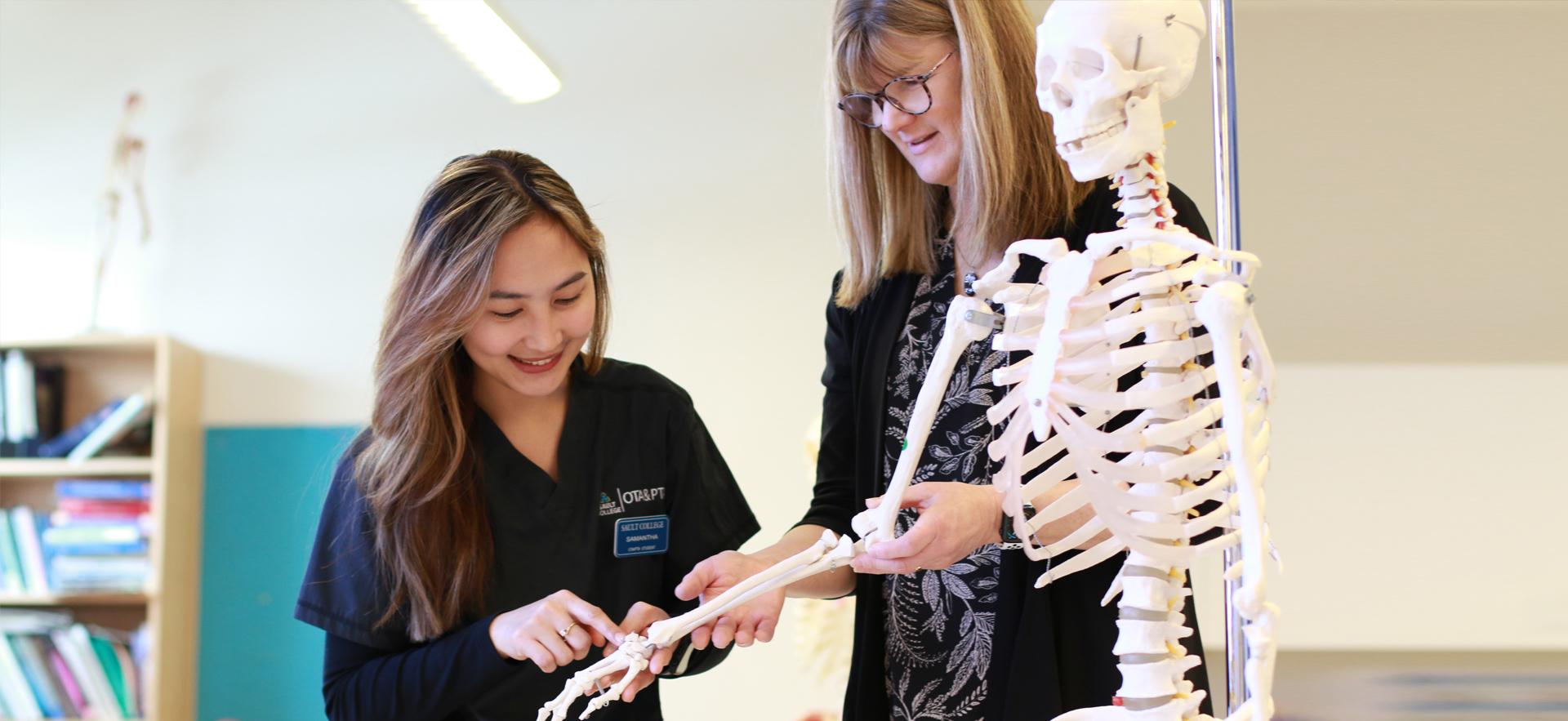 Image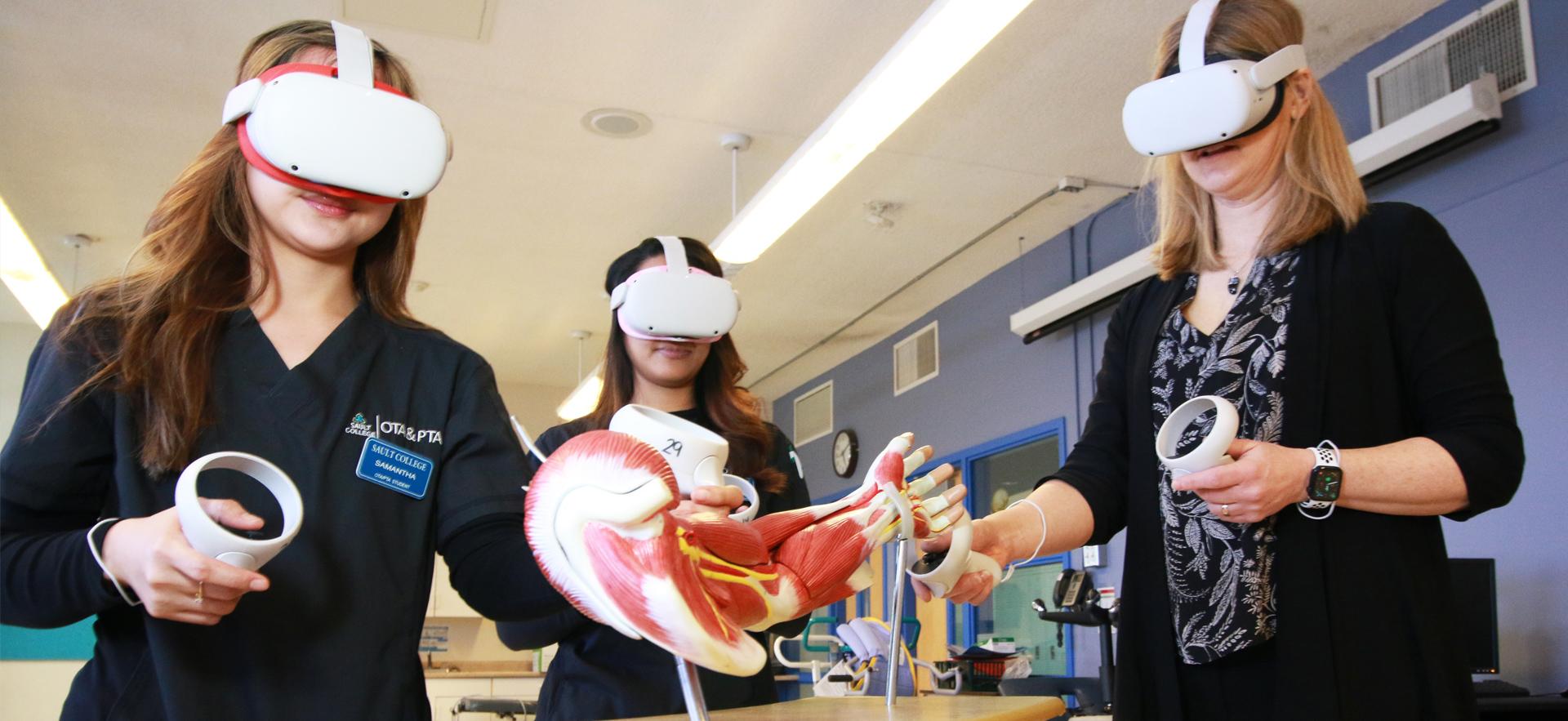 Image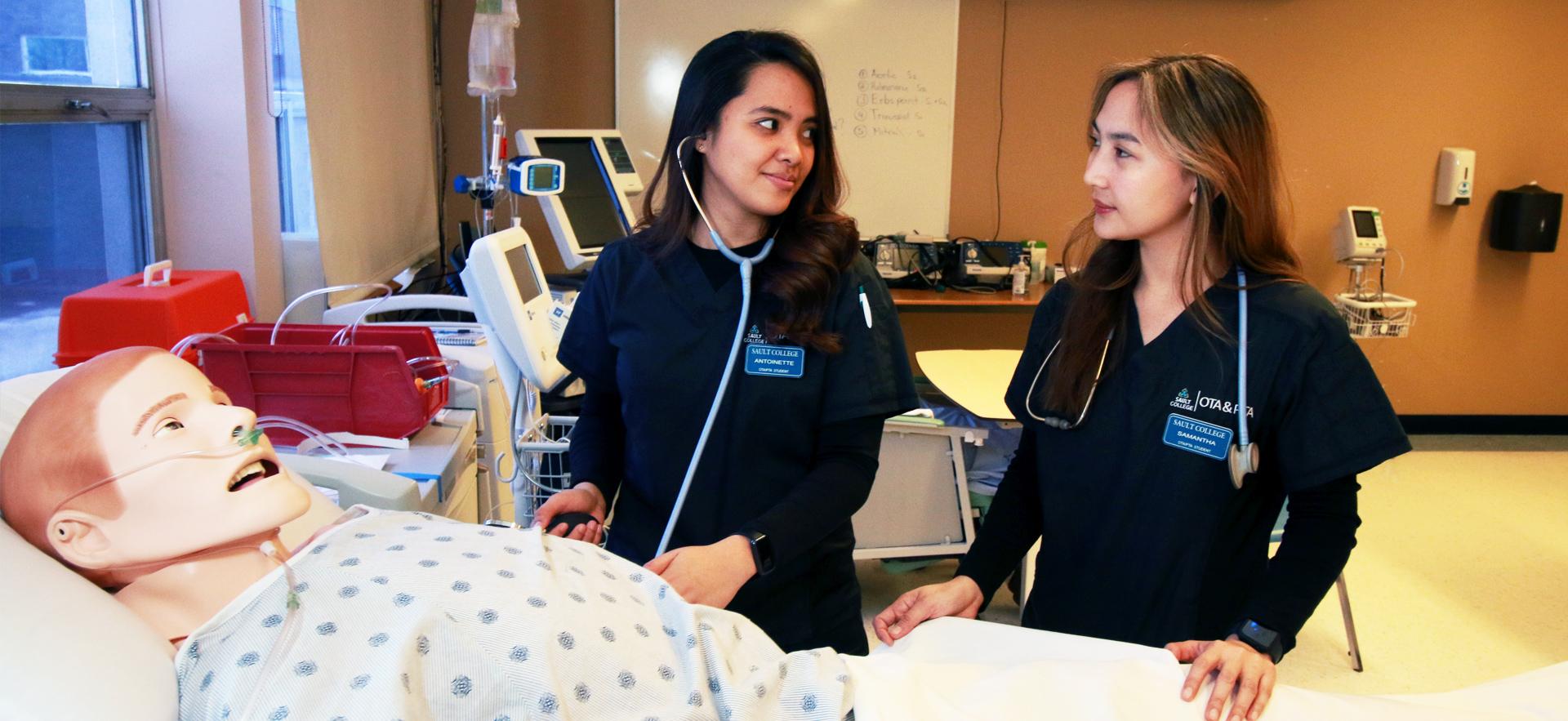 Image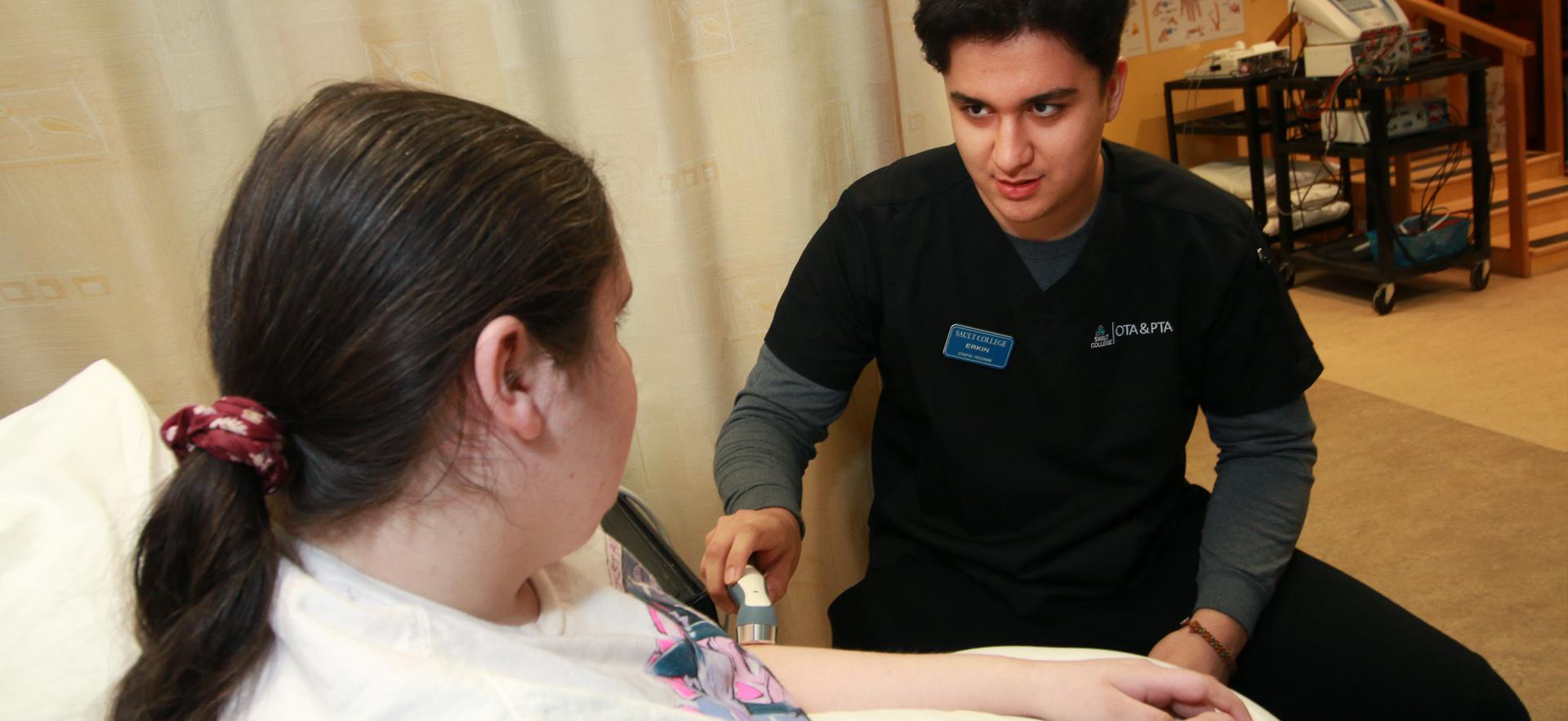 Image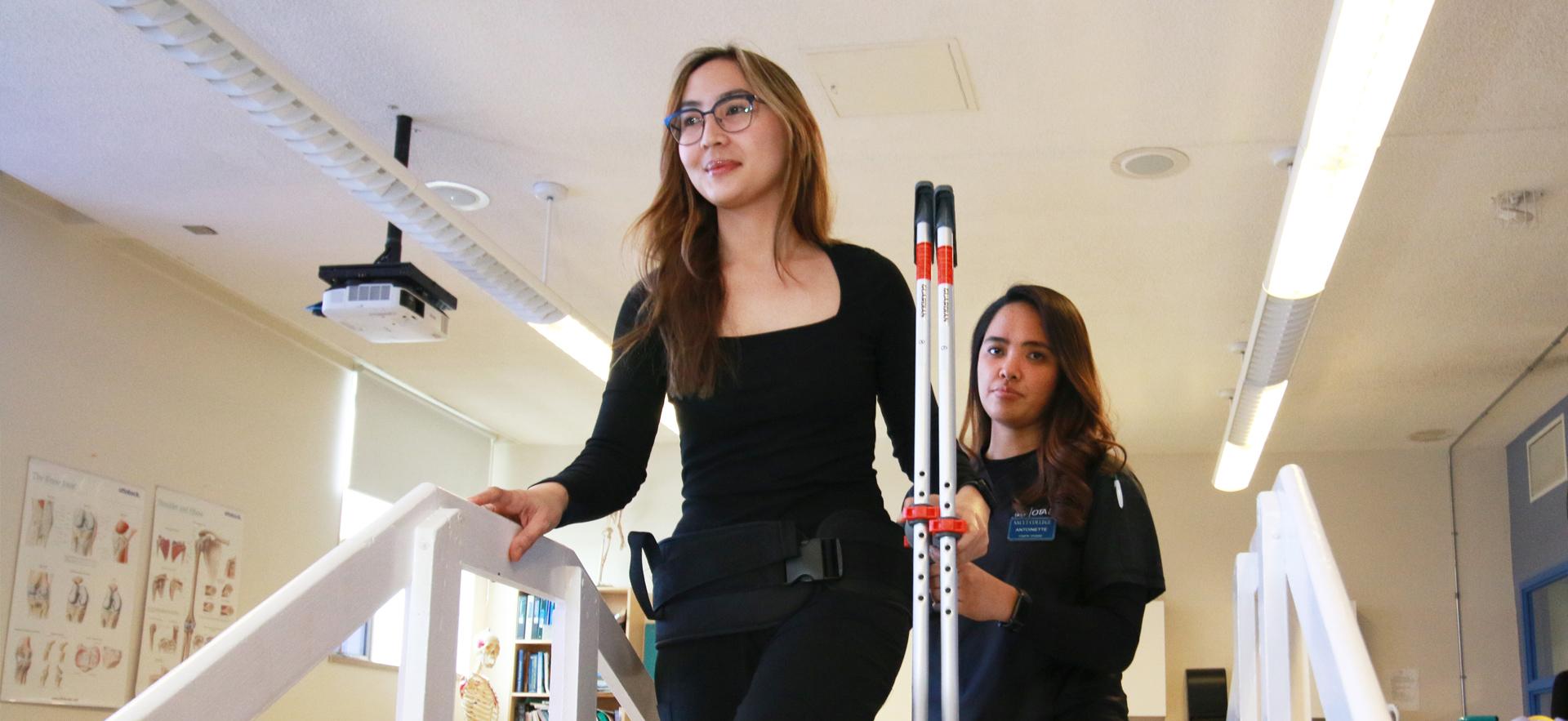 Image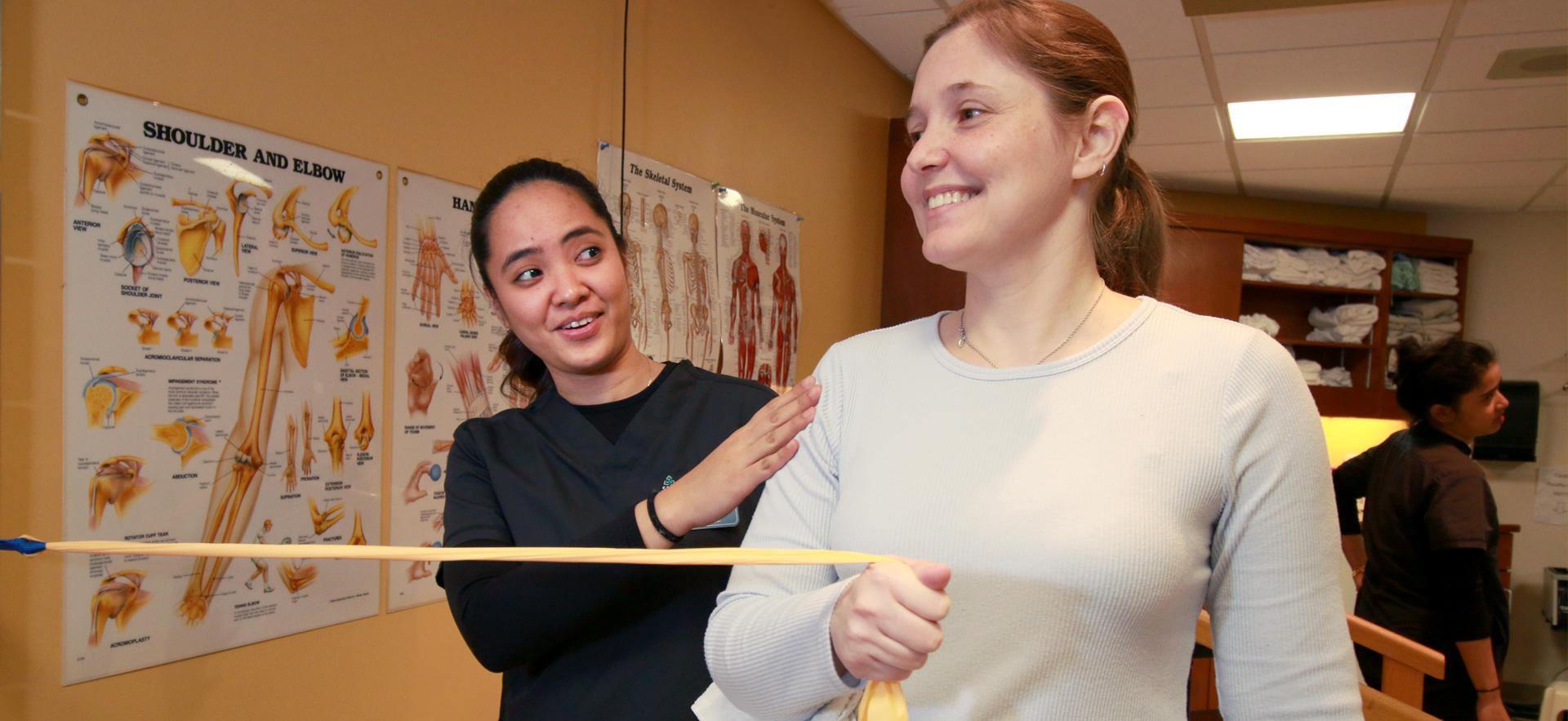 Image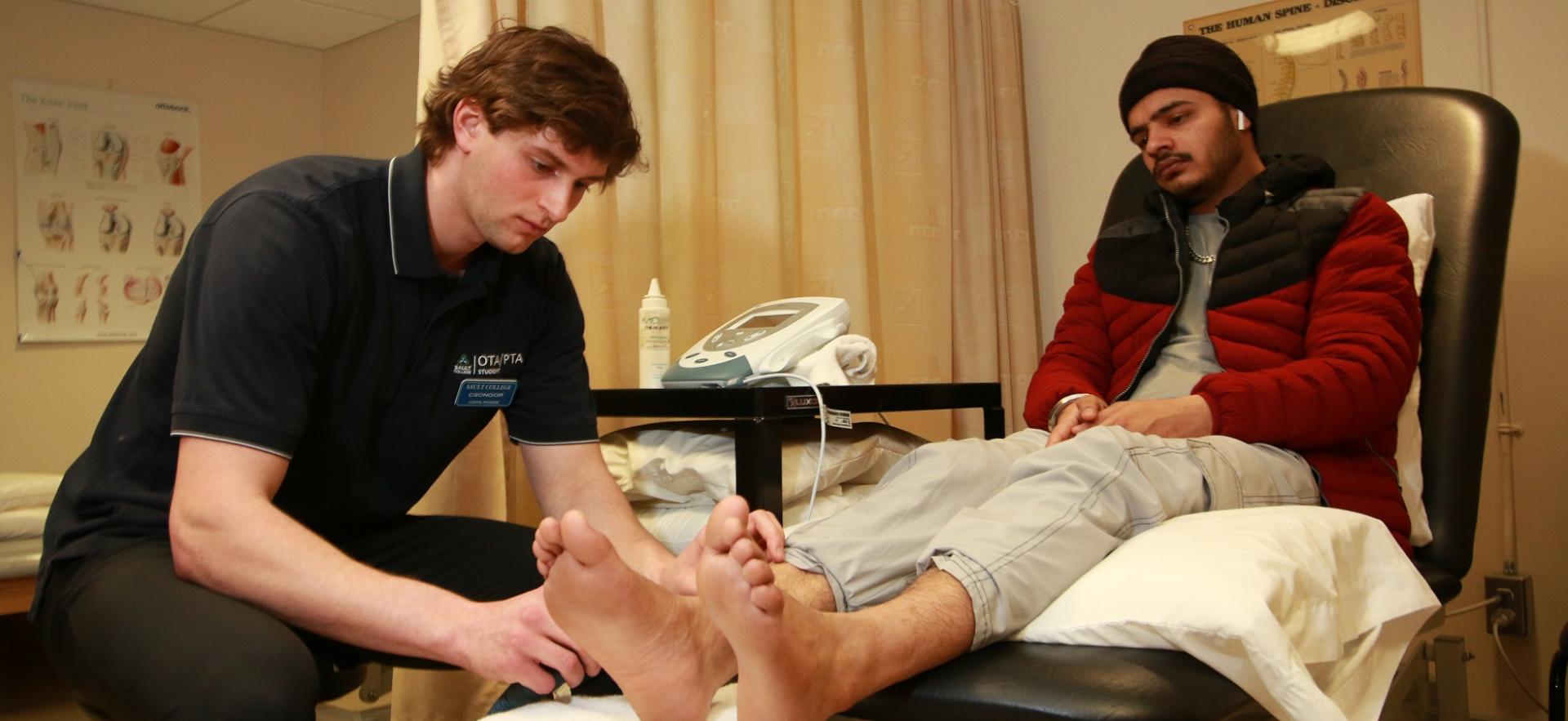 Image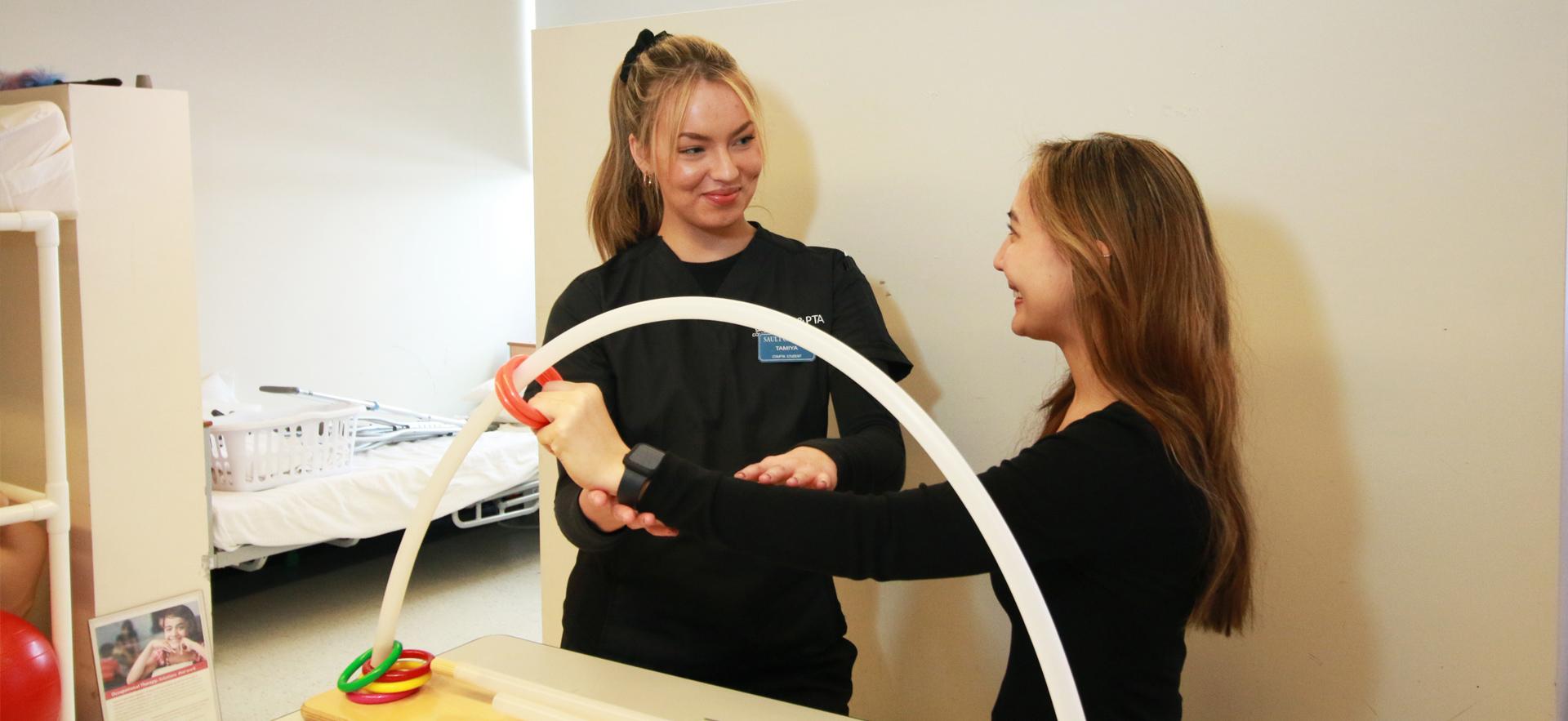 Media
Image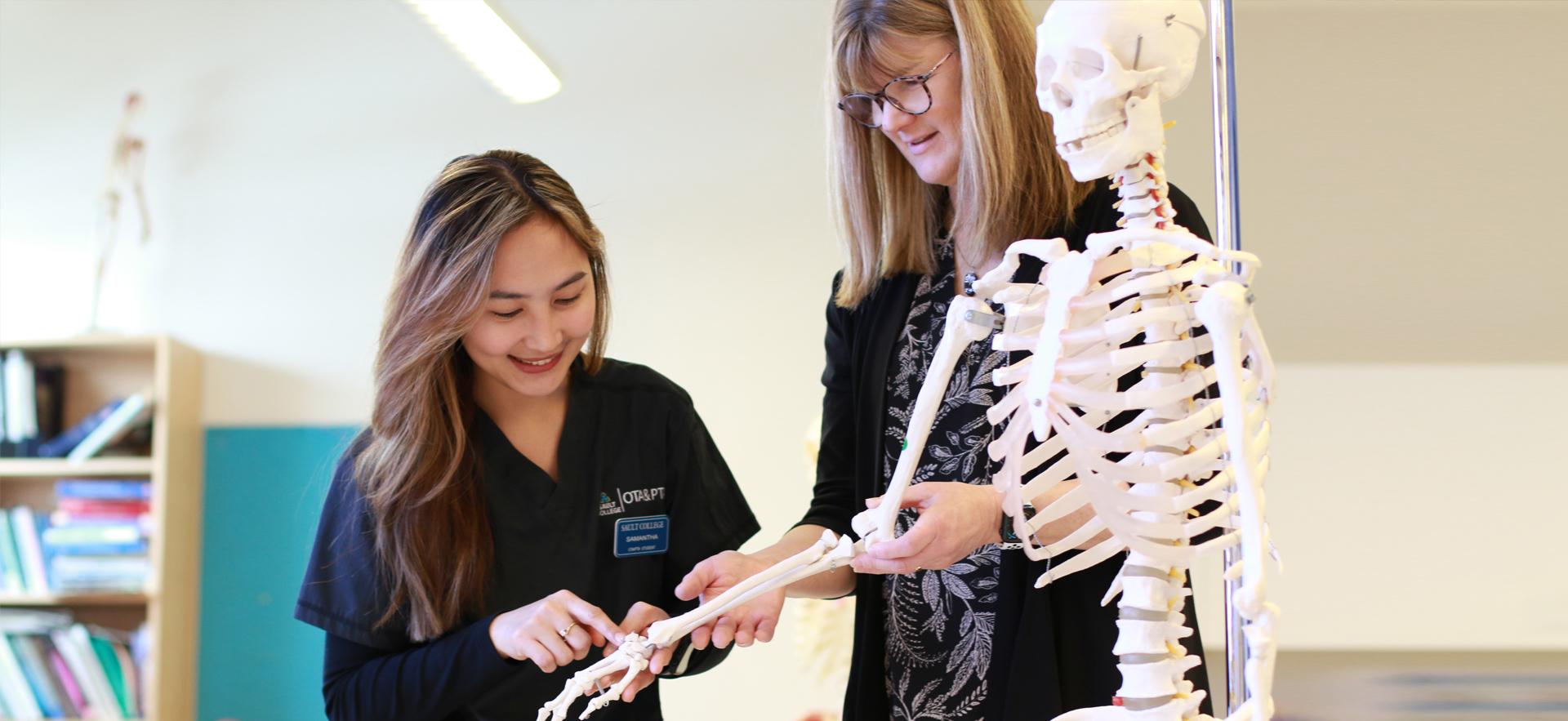 Image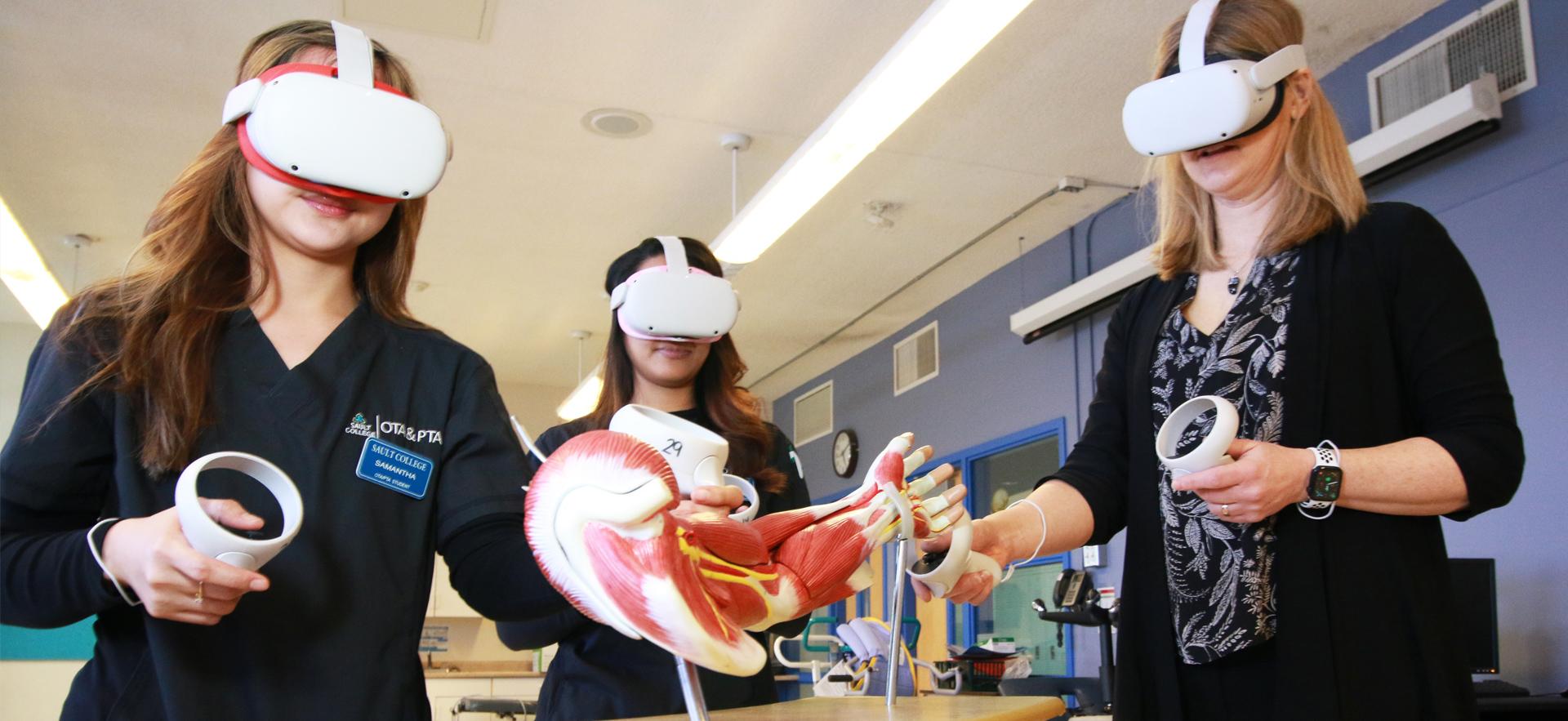 Image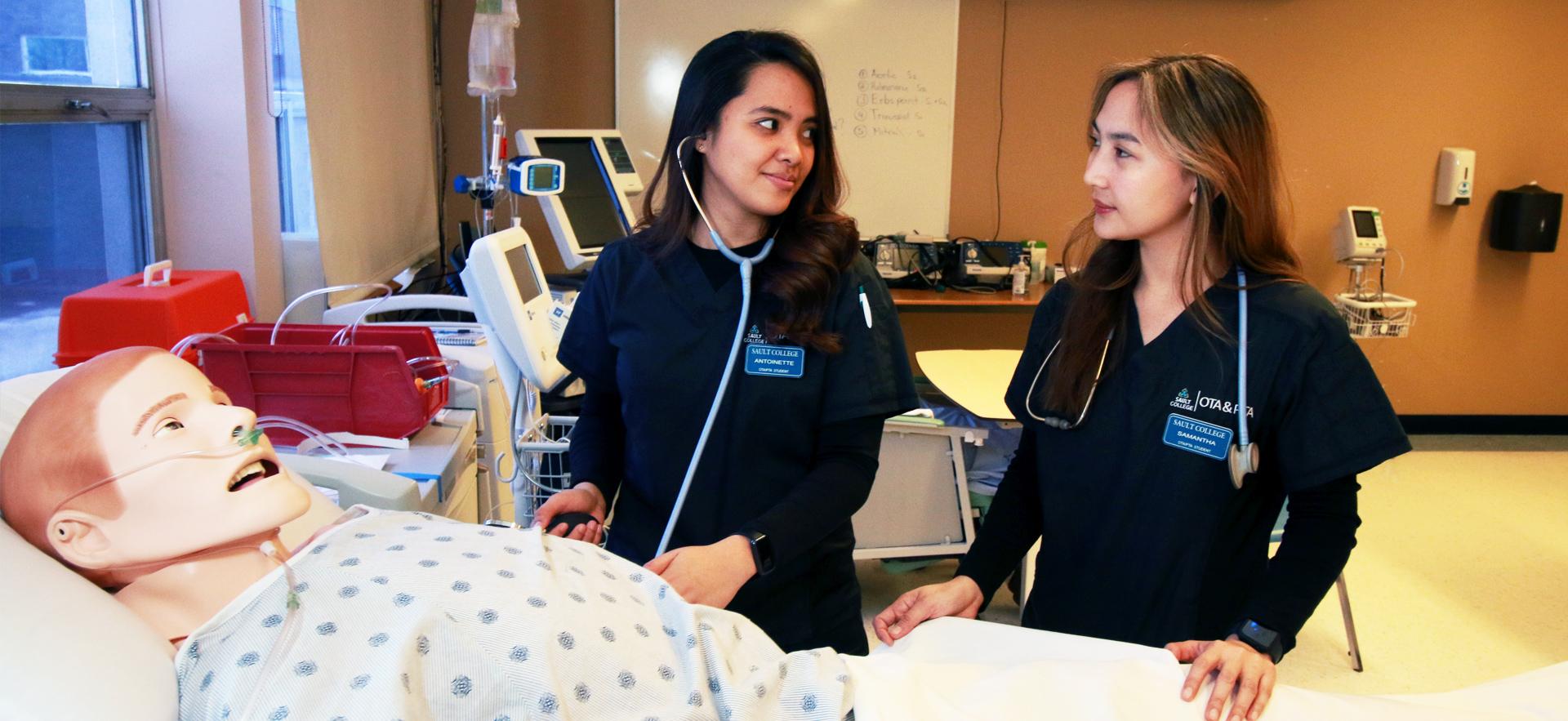 Image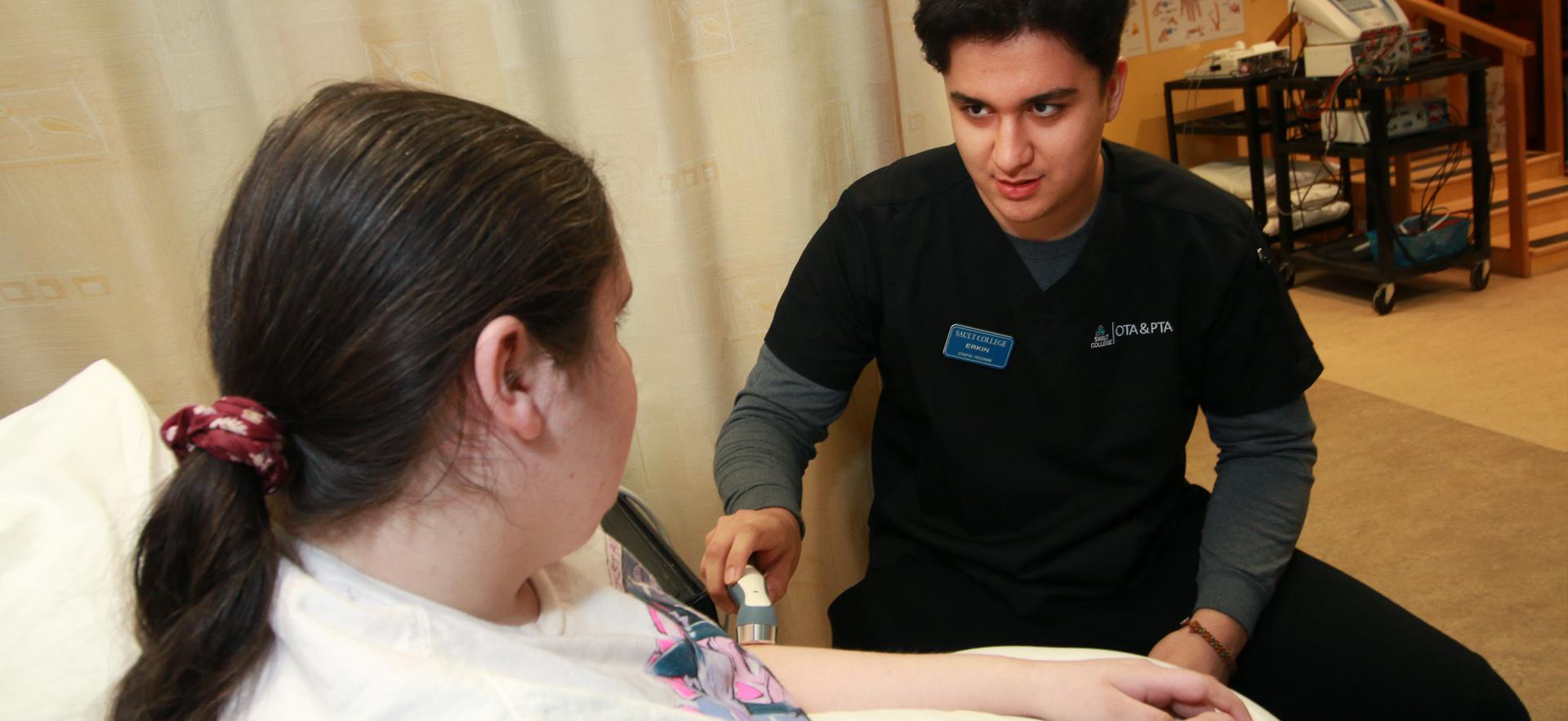 Image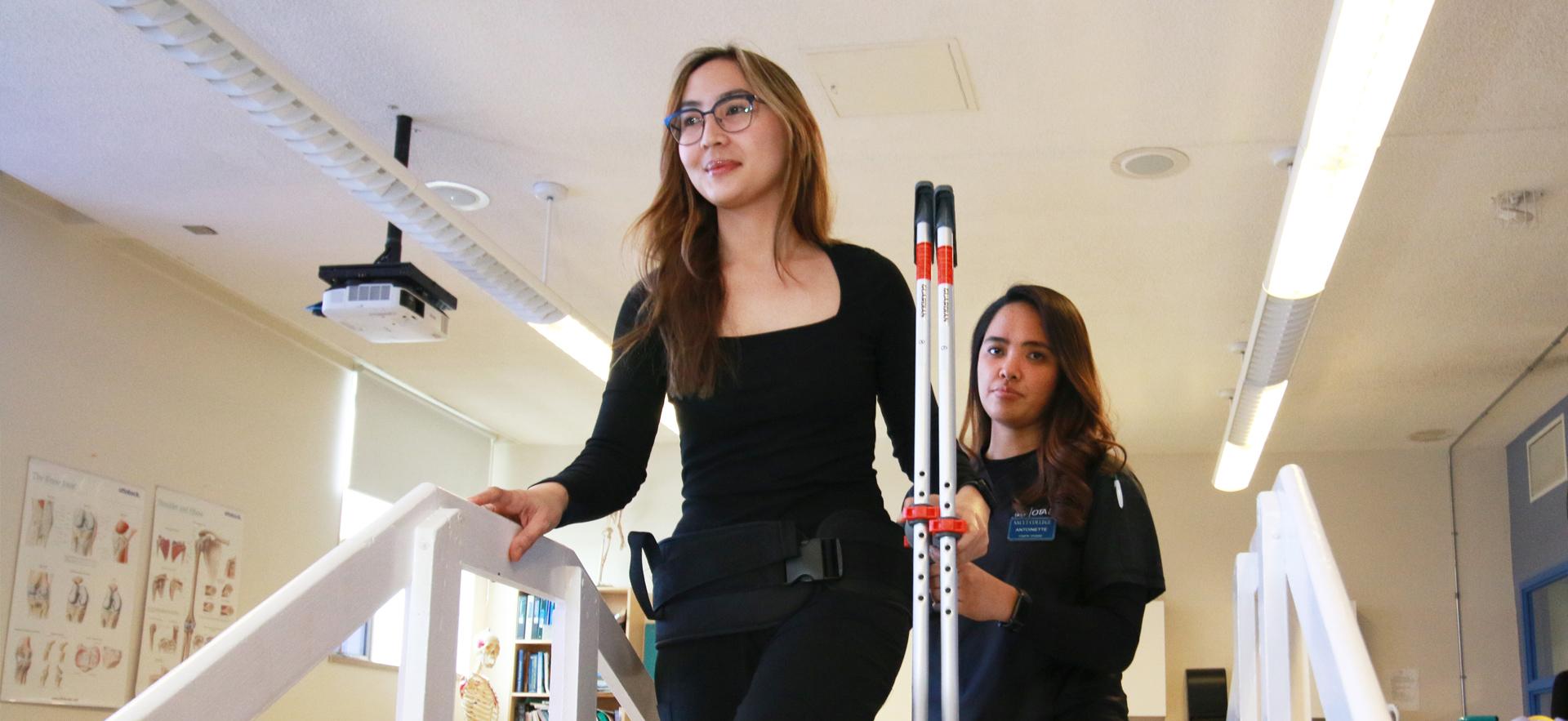 Image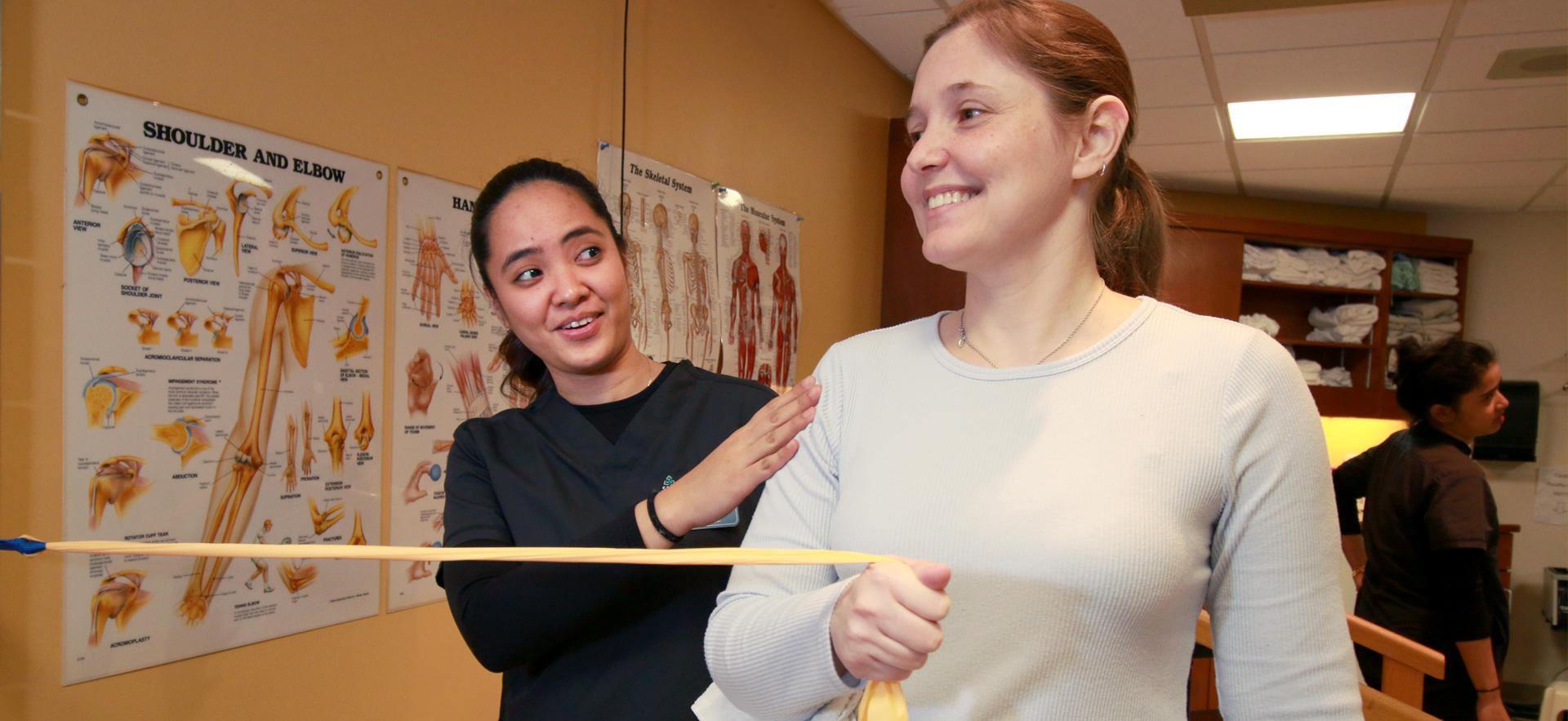 Image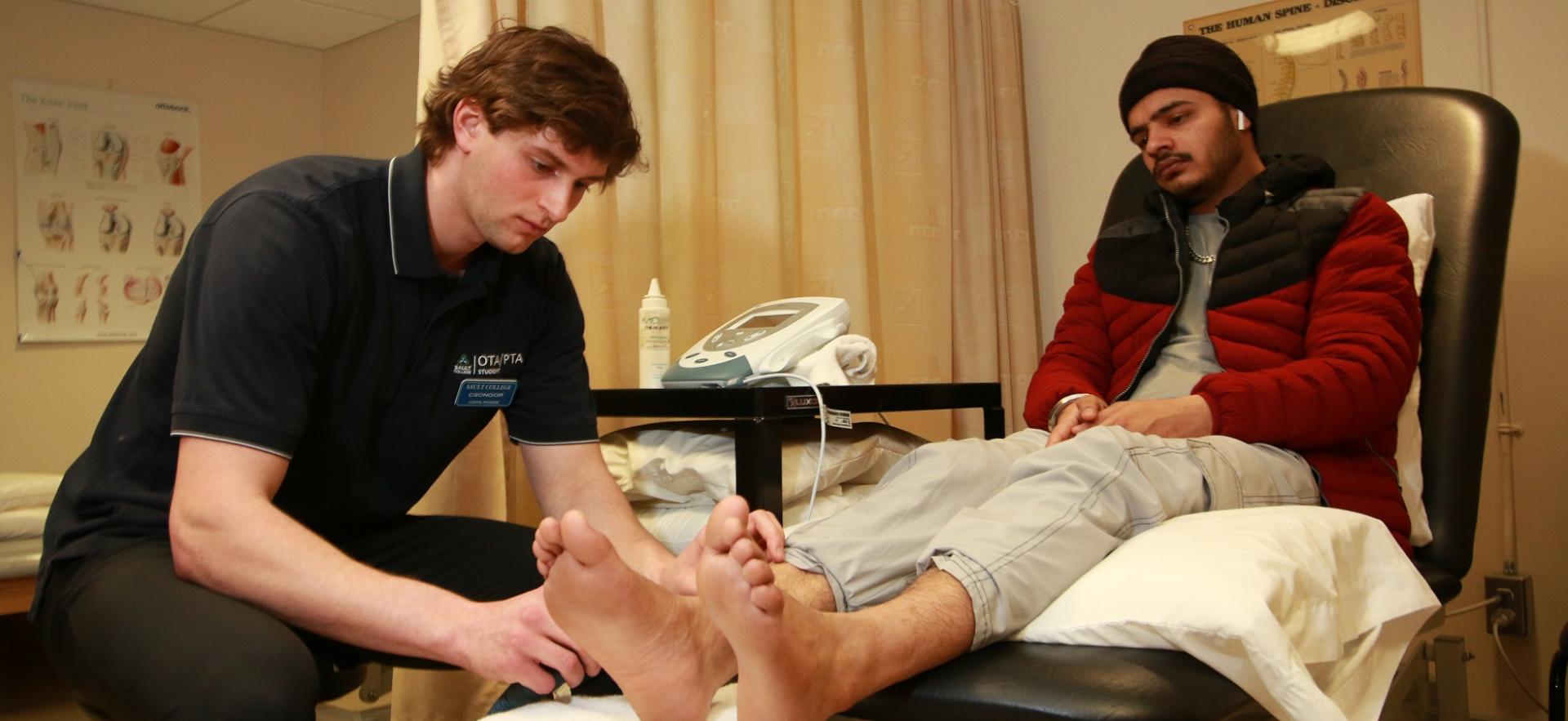 Image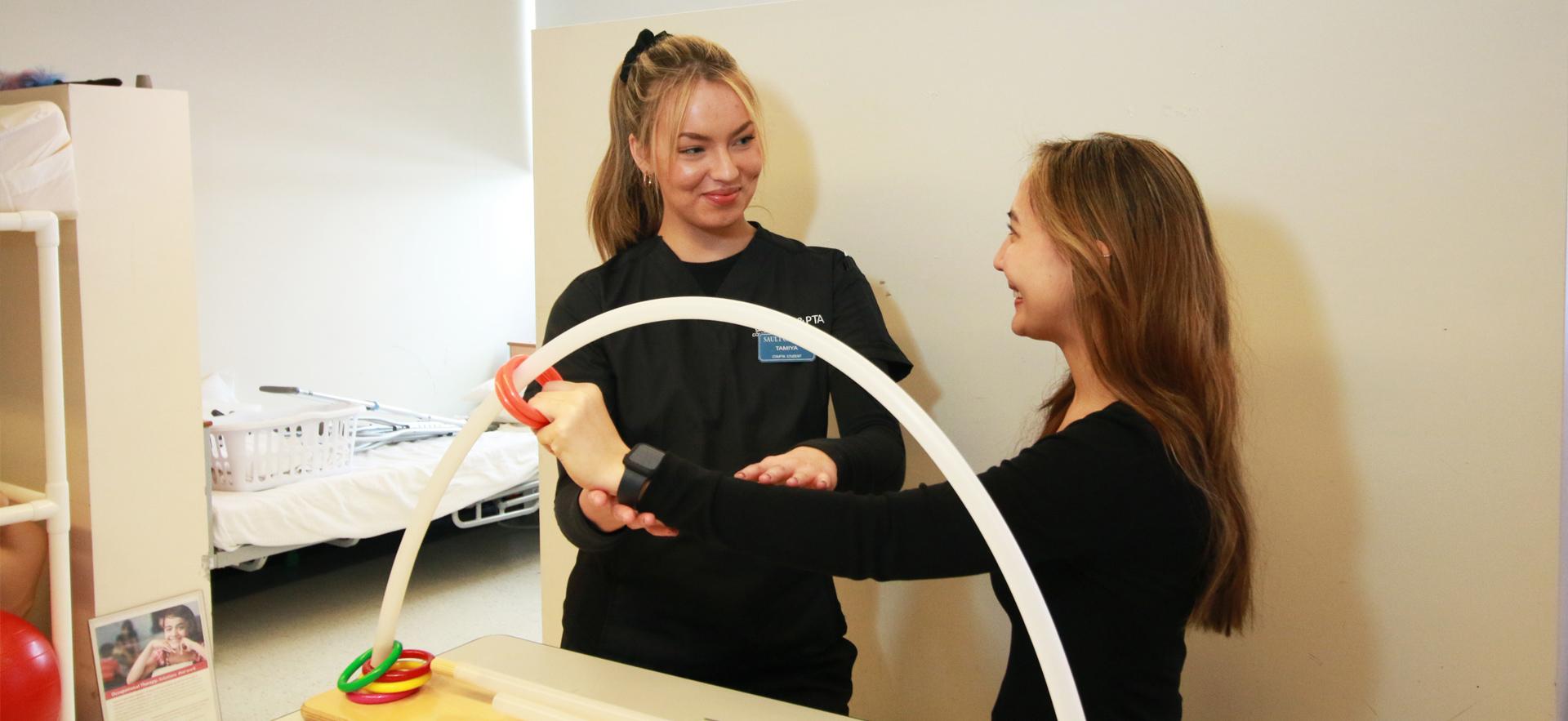 Requirements & Program Information
Ontario Secondary School diploma with Grade 12 English (C) ENG4C and Grade 11 Biology (SBI3C), or mature student status.
Clinical/Lab and Field Placement Requirements
Students will participate in field placement during all four semesters of the program.  In the latter part of semester four, you will complete fieldwork hours on a full-time basis for at least 6-10 weeks, gaining valuable work experience and employment references. Students should be prepared to travel outside of Sault Ste. Marie in order to complete the required fieldwork placement in the fourth semester.  Students should plan financially for these placements, as any expenses related to out of town travel and accommodations during fieldwork will be the responsibility of each student.
In order for students to be eligible to complete field placement, which is a mandatory component of education, specific placement requirements must be satisfied, and documentation submitted by the due date identified for the program.
The absence of documentation for any requirements or failure to submit the requirements by the expected due date will result in the student being withdrawn from the course in which field placement is an element.   Tuition will not be refunded if access to clinical placement is denied.
PLACEMENT REQUIREMENTS:
STANDARD FIRST AID
CPR – Level C (annually) with AED, no online courses are permitted
WHMIS
N95 MASK FIT TESTING CARD (every 2 years), requires a clean-shaven face for appropriate fitting
IMMUNIZATIONS
POLICE VULNERABLE SECTOR CHECK (PVSC) (annually), Level 3 Criminal Record Check
Clinical Placement Requirements are due as indicated:
OTA/PTA (3022) - Year 1 - Due Date - 8th week of first semester
OTA/PTA (3022) - Year 2 - Due Date - As Communicated



College Contact for Clinical Requirements:  Sydney.Sachro@saultcollege.ca
Please Note:
All original placement documentation must be submitted to the appropriate college contact by the program mandated deadlines. It is the responsibility of the student to keep up-to-date placement requirement documentation (and copies) to present to faculty and/or placement agencies as required.  The College does not retain copies of any placement requirements.
Students are responsible for the full cost of obtaining placement requirements. Tuition is not refunded if access to clinical placement is denied or if proof of requirements is not submitted within the required timeframes.
Notice to International Students:
The necessary immunizations for your program can be obtained from your home country and you will need to submit those immunization records along with the College Health Form to the Sault College Health Centre.
All other requirements (Standard First Aid, CPR, WHMIS, N95 Mask Fit, Police Vulnerable Sector Check) must be obtained and completed after your arrival in Ontario.
As per Canadian Immigration policy, all International students completing a program with a practicum (field/clinical placement) component must obtain a Coop/Work Permit from Immigration, Refugees and Citizenship Canada stating that they are permitted to attend practicum as an integral part of their studies. International students will not be able to attend placement without obtaining this permit.
Clinical Requirement Specifics:
Students should endeavor to have all of their requirements completed prior to their program start date.  If unable to obtain all requirements prior to the program start date, a list of available resources in the community can be provided.  Sault College cannot guarantee that appointment dates or course times will be available prior to identified program deadlines.
Standard First Aid, CPR - C, and the N95 Mask Fit Test - are offered through Sault College`s Continuing Education Department. You may also access these courses through other providers as long as they meet the clinical/placement requirement specifications.
WHMIS - The WHMIS course is available to registered students free of charge on LMS (Learning Management System). Registration takes place after mid-August and mid-December when tuition has been paid.
Two Step TB Skin Test or Blood Test - Please be advised that the Step Two TB Skin Test is available locally through Algoma Public Health, however, testing, although offered weekly, is limited. It is our suggestion that you schedule this test early so that you complete the requirements by the deadlines listed on this page for your applicable program. Algoma Public Health contact information is (705) 541-7085. In the event that Algoma Public Health is not offering TB skin testing, please contact your health care provider and watch for information regarding clinics on LMS.
Immunizations
Complete required immunizations prior to the first semester of the program and submit official records, along with the College Health Form, to the Sault College Health Centre.
2 Step TB Skin Test or TB blood test or Clear Chest X-Ray
Annual 1 Step TB Test (as needed) 
Measles/Mumps/Rubella
Tetanus/Diphtheria (within 10 years)
Chicken Pox (documented proof of immunity)
Hepatitis B
Influenza Vaccine (October/November)
COVID vaccine*
* The Covid-19 pandemic remains a global concern. We encourage you to speak to your healthcare provider regarding the decision to be vaccinated. Please note clinical placement agencies may require evidence of vaccination prior to entry to placement. Further, they may refuse a student entry who has not been vaccinated against Covid-19.
Police Vulnerable Sector Check (PVSC):
For your program, a Police Vulnerable Sector Check (PVSC) is required.
The laws, rules and regulations regarding the acquisition of a criminal record check and the Sault College Criminal Record Check Policy shall be enforced and applied in accordance a manner consistent with the Ontario Human Rights Code, the Police Record Checks Reform Act, 2015 and all other applicable statutes or regulations.
Why is a Police Vulnerable Sector Check necessary?
Sault College placements are bound by this policy and the policies of placement providers. Given this, the purpose of a police vulnerable sector check includes but is not limited to the following:
The protection of vulnerable persons;
The protection of the interests of students;
The protection of the interests of the placement agencies; and
The protection of the interests of the College and its employees.
Students will be advised of the process to obtain a Police Vulnerable Sector Check during the first month of the first semester or when field placements are confirmed.
Individuals who have charges, pending charges or a criminal conviction for which record suspension has not been granted, must contact the College Contact listed above for their program. A meeting will be scheduled with the Chair to discuss their ability to participate in experiential learning in order to complete all program graduation requirements. If a student fails to disclose this information, their academic status will be adversely affective. Prospective students should know that if a criminal record exists, the student's ability to complete the academic requirements and graduate from their program may be in jeopardy.
Student questions about the Police Vulnerable Sector Search and the submission of these documents may be made to the College Contact listed above for their program.
Please visit the Sault College Criminal Record Check Policy and procedural information located on the Student Portal. On the Student Portal, select Support Services, then select Forms and Policies.
Students must also sign a Statement of Confidentiality.
Career Path
As a graduate, you may work as an Occupational Therapist Assistant, Physiotherapist Assistant and/or a Rehab Assistant in a variety of settings including: Acute Care Hospitals, Rehabilitation Hospitals, Children`s Rehabilitation Centers, Community Care (Home Care), Convalescent Care Facilities, Private Physiotherapy Clinics, Occupational Therapy Centers, Disability Management Services and Long Term Care Facilities.
In addition graduates have applied their knowledge and skills in other settings including: Health and Rehabilitation Equipment Vendors, Equipment Repairs, Chiropractic Clinics, Consumer Organizations (for example, Brain Injury Association, Arthritis Society of Canada, March of Dimes) and the Alzheimer`s Society.
Graduates of the program may be eligible to purse further education at Algoma University, Lake Superior State University, Laurentian University, and University of Northampton. All graduates are subject to the transfer and entrance requirements set out by each post-secondary institution.
Dress code
Dress Code for Fieldwork
As a student in the Occupational Therapist Assistant and Physiotherapist Assistant Program at Sault College, you will develop a professional image and professional behaviours for fieldwork placements. Presenting oneself as a professional is expected by the public served, by the facilities which provide fieldwork opportunities and by the Occupational Therapists and Physiotherapists who will supervise you.
When on fieldwork assignments you will wear school uniforms, which consist of Scrubs with Name and Logo.
Detailed information regarding the purchase and use of the uniform will be provided in class in September, Semester One.
Footwear must consist of casual or athletic shoes (closed heel and toe, non-skid soles).
Fees & Costs
Domestic
International
Tuition
Ancillary
Tuition
Ancillary
$2,716.50
$1,150.00
$15,469.40
$1,800.00
These fees are for the 2023-2024 academic year (year 1 of study), and are subject to change. Please visit your Student Portal to view your Schedule of Fees.
Contact
Program Coordinator: Andrea Sicoli, (705) 759-2554, ext 2541, andrea.sicoli@saultcollege.ca
September intake is available for this program. Please contact the Registrar`s Office for further information.
With this program, you`ll help others develop skills and perform exercises that will both help strengthen and encourage your clients as they recover from an injury or accident or overcome a challenge.