Ray Lawson Hall offers premium single, single and double rooms for our students.
*At this time, available rooms in Residence will include double rooms, single rooms, and premium single rooms with shared bathrooms. If this changes, it will be communicated.
The premium single rooms have:
a bed
two wardrobes
drawers for storage
a desk and chair
a sink
a washroom shared with an adjoining room
The single rooms have:
a bed
a desk and chair
a wardrobe
drawers for storage
a semi-private living area, shared with 7 others
access to 2 complete washrooms in the suite area
Single Pods/Suites have:
two full washrooms
mounted flat screen TV
sofa, love seat, chair (some variation)
table and chairs
The double rooms have:
two beds
two wardrobes
two desks and chairs
a sink
drawers for storage
a washroom shared with an adjoining room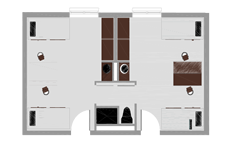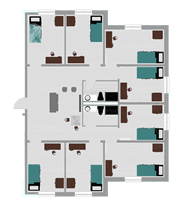 Ray Lawson Hall offers three types of residence rooms: premium singles, singles, and double rooms. Premium single rooms are converted double rooms that share a washroom with the room next door. The single rooms are in a suite where eight rooms face into a common living area. There are two bathrooms in the living area which are shared by the students living in the suite.
Double and premium single rooms share an adjoining bathroom with the double or premium single room next door. Residents in double and premium single rooms will share an adjoining bathroom with double or premium single occupants of the same sex.
When filling out your application form, please rate your room choices 1 through 6    so that we can try to give as many people their top choice as possible. Students can also request on the application form to be roommates with a certain individual if placed in a double room. Preferred roommates may only be matched if both students indicate each other on their applications.
We are not able to provide roommate information until Move-In Day.  The decision on roommate pairs will be made based on the application form information, but we may also consider age, and program of study.
Throughout the school year if, for whatever reason, you are not getting along with your roommate, you should speak to a member of the Residence Staff to attempt to resolve these problems. If the problem persists, students are advised to seek counselling or conflict resolution services with their roommate from counsellors within the college.
Room Assignment 
Rooms are assigned to optimize the efficiency of the Residence. With the exception of students with special needs, all students are assigned a bed by lottery. This process takes into account the preferences on your residence application form, although we cannot guarantee those.
Historically, the demand for single rooms outweigh the number of available beds, the overflow of applicants are placed on a waiting list for single rooms, and are assigned another available room size.
One person is assigned per single or premium single room, and two people per double room. If a vacancy occurs in a double room, a new roommate will be assigned. Residents are required to change rooms if they are asked to do so.
If you want to room with a friend, you must both request each other when you submit your application, and both of your accommodation preferences must match..   
Those residents in programs that start or end on dates different than the rental periods must make arrangements with the Residence Office for early arrival or late departures. Students enrolled in programs that have a summer term will be required to complete a summer residence application, should they wish to continue to stay on campus. Additional fees apply for any nights in addition to the contract term.
NOTE: Applications submitted late will not be processed until after those that met the deadline.  Applications submitted without the $50 application fee will not be processed until payment is received.
Barrier-free Rooms
Sault College is committed to meeting the requirements of students with disabilities to the best of our abilities. If you have special needs, you should submit this information with your residence application form. If you did not complete this section of the application form, or if your situation has changed since you submitted it, contact the Residence Office immediately.
Roommate Information
Every person arrives with different expectations of what they hope their experience will be. It is important, therefore, that you and your roommate discuss what your expectations of living together will be.    This will help you to reach a mutual understanding about your expectations and lay the groundwork for your relationship at the beginning of the year, so that it will be easier to talk with each other should a concern arise down the road.
Want to see our residence and our entire campus in our fully immersive virtual experience.
Want to see our residence and our entire campus in our fully immersive virtual experience.