Carolyn Hepburn
Dean of Indigenous Studies and Academic Upgrading

September 30 marks the National Day for Truth and Reconciliation: a day meant for reflection, learning, and for reaffirming our commitment to moving reconciliation forward. We honour and remember the history and legacy of residential schools in Canada and will work to help ensure that these are never forgotten. 
On this day marked for learning, movement and healing, Sault College will be offering a virtual educational session open to all students and staff. All classes from 9:30 - 11:30 a.m. have been cancelled. We encourage our students from around the world to join us for this session that will showcase the story of the resilience of First Nation, Métis and Inuit across the land while, at the same time, confirming the legacy of that time in our history as a country. 
On September 30, we encourage our College community to wear your orange to honour residential school survivors and remember those who did not make it back home to their family.
In addition to our virtual events, we will commemorate this important date in two special ways.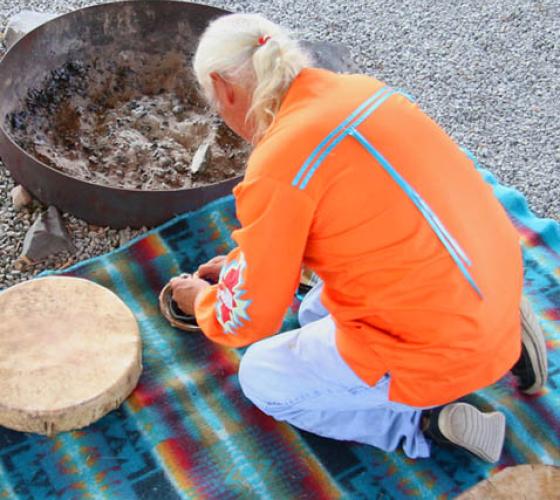 Sacred Fire
There will be a Sacred fire burning throughout the day at our campus fire arbour.
Light Up M-Wing
We'll light up M-Wing corridor in orange lighting.
Sault College, Indigenous and Community Assistance Resources
Employee Assistance Resources
Should you require assistance, these are the resources that are available to our staff and students.
LifeWorks
This is our Employee Assistance Program  (EAP) and is available to all Full-Time and Part-Time staff and their families. 
Employees can reach LifeWorks anytime at 1-877-207-8833 and speak with a live person who will provide assistance. There are also many online resources available at www.lifeworks.com
Student Services
Students who require support can email studentsupport@saultcollege.ca and one of our Counsellors will reach out to you.
Indigenous-Specific Resources
First Nation, Metis & Inuit Hope for Wellness Help Line
1-855-242-3310
Nishnawbe Aski Nation Mental Health & Addictions Pandemic Response Program – NAN HOPE
1-844-NAN HOPE (626-4673)
National Indian Residential School Crisis Line
1-866-925-4416
Community-Based Indigenous Mental Health Services
Indian Friendship Centre Sault Ste. Marie
705-256-5634
Nogdawindamin Family and Community Services
1-800-465-0999