Overview
An investment in you is an investment in the thousands of people you'll impact in your career. Together, let's bring your goals to life.
The Honours Bachelor of Science - Nursing curriculum stresses health promotion and wellness while focusing on care and compassion for those who are ill. On your journey to become a registered nurse (RN), you'll explore career-specific scenarios that prepare you for real-world success. Clinical placements that begin in year-one and small class sizes create a focused and innovative learning environment. Plus, our state-of-the-art Adult Medical-Surgical Simulation Lab allows you to learn through active participation in life-like situations. Want more tools to help you succeed? You'll also have access to a large general lab, a simulated home, assessment lab and a maternal-child sim lab where students can focus on other communication, critical thinking and hands-on skills. 

This isn't your typical nursing college! It's amazing. It's hands-on. And you will find it here.

Ontario Learn and Stay Grant
Students starting the Bachelor of Science - Nursing (Honours) (BScN) program or the  Practical Nursing (PN) program at Sault College in September 2024 will be eligible to apply for the grant which provides full, upfront funding for tuition, books, and other direct educational costs. 
 The grant will support postsecondary students enrolled in targeted priority programs in underserved communities, including BScN and PN at Sault College, by providing funding in exchange for committing to serve in  the north region after graduation.   It is a key component of Ontario's   A Plan to Stay Open, announced in March 2022, which includes a number of measures to recruit more people to commit to working within the province's health system.   Students continuing their studies  at Sault College in year two   of BScN or PN in September 2024 will also be eligible.
Attend Our Information Session
Monday, December 18, 2023
Learn how to qualify for tuition funding  or  meet entrance requirements for our BScN or PN program and more.
 
Click here for full details about Learn and Stay > 
Media
Image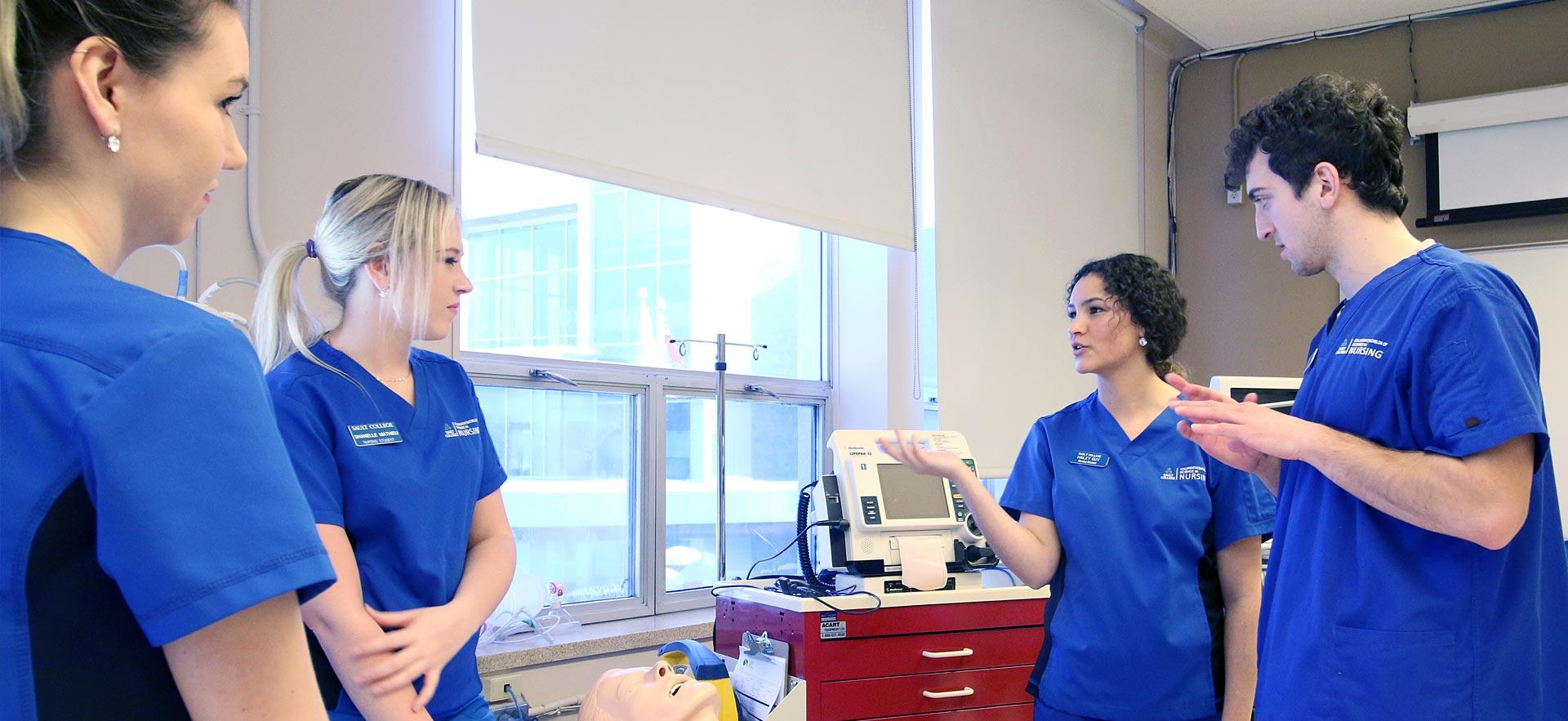 Image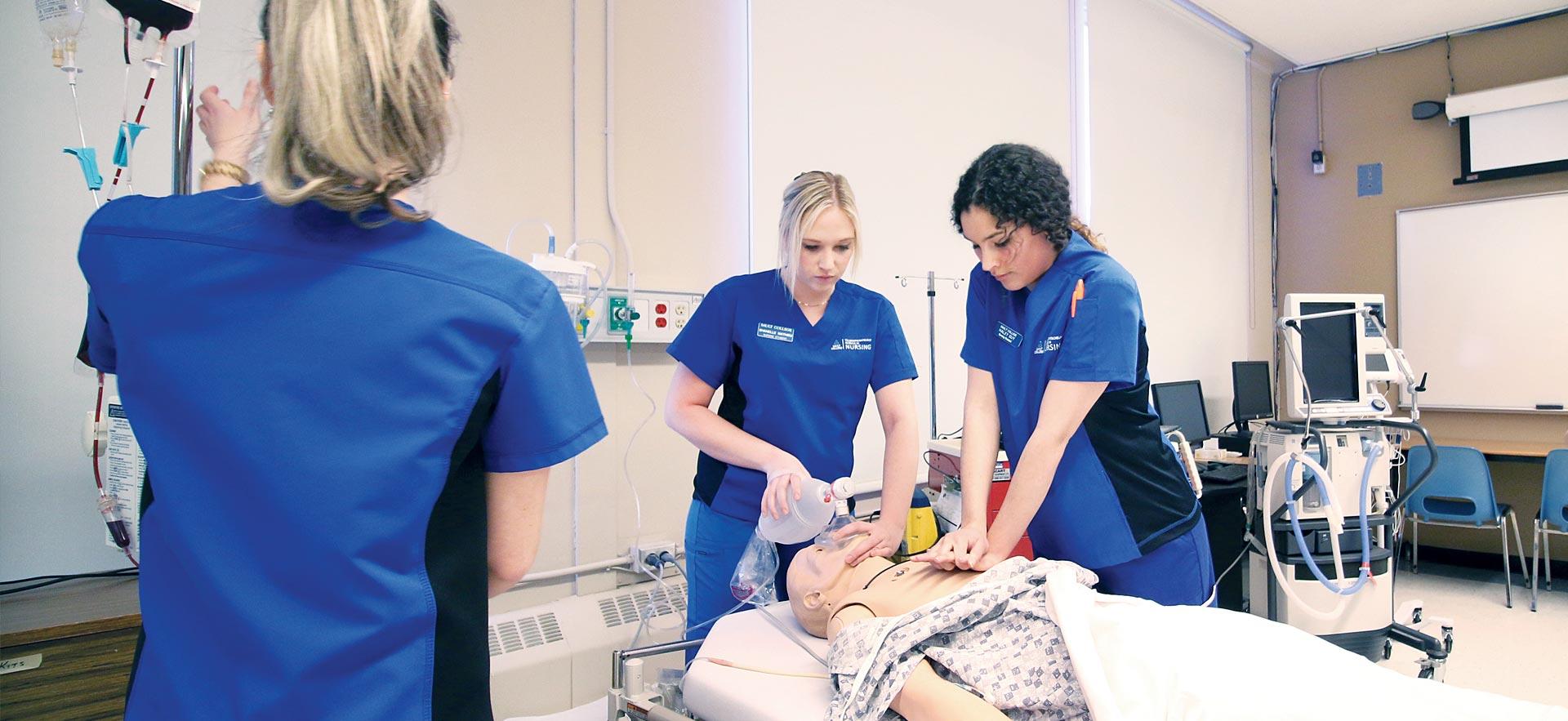 Image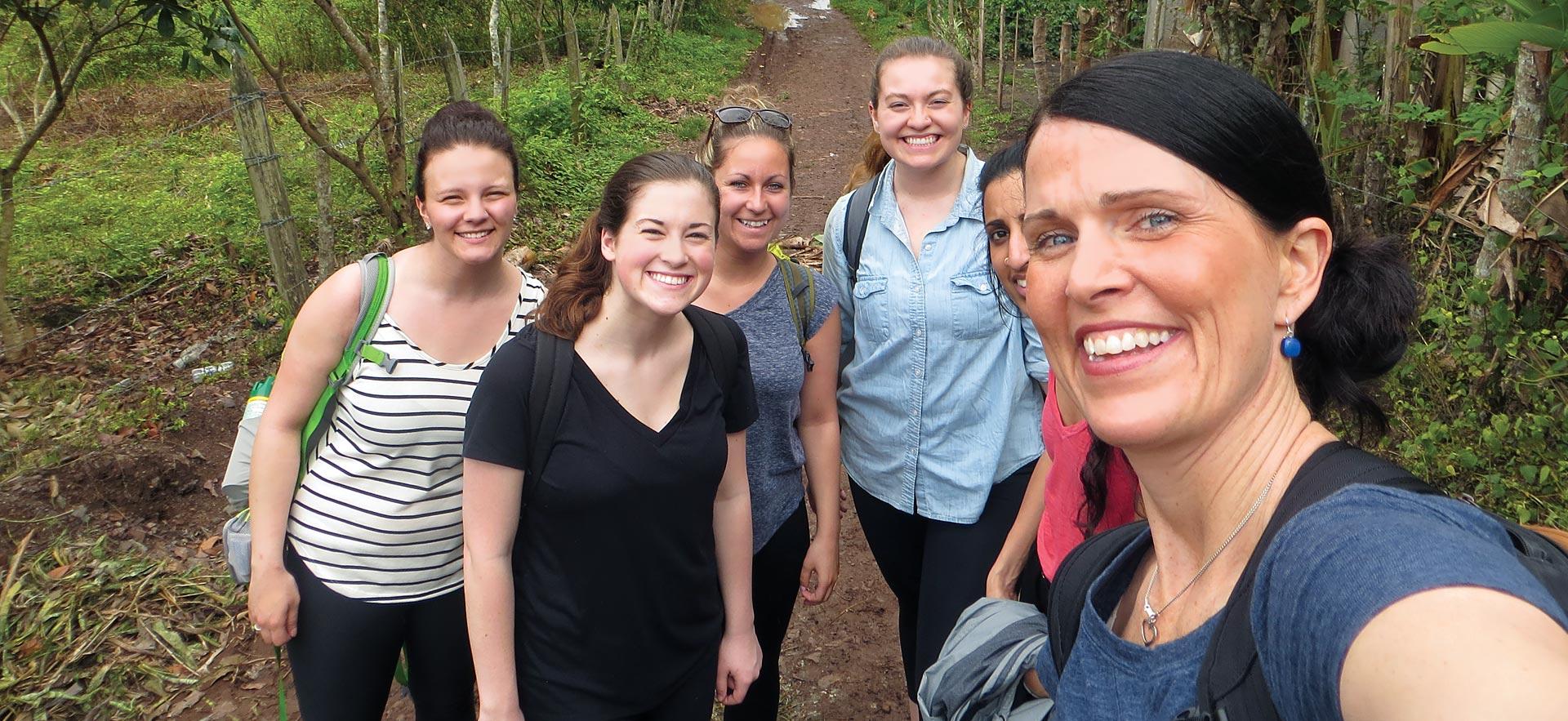 Image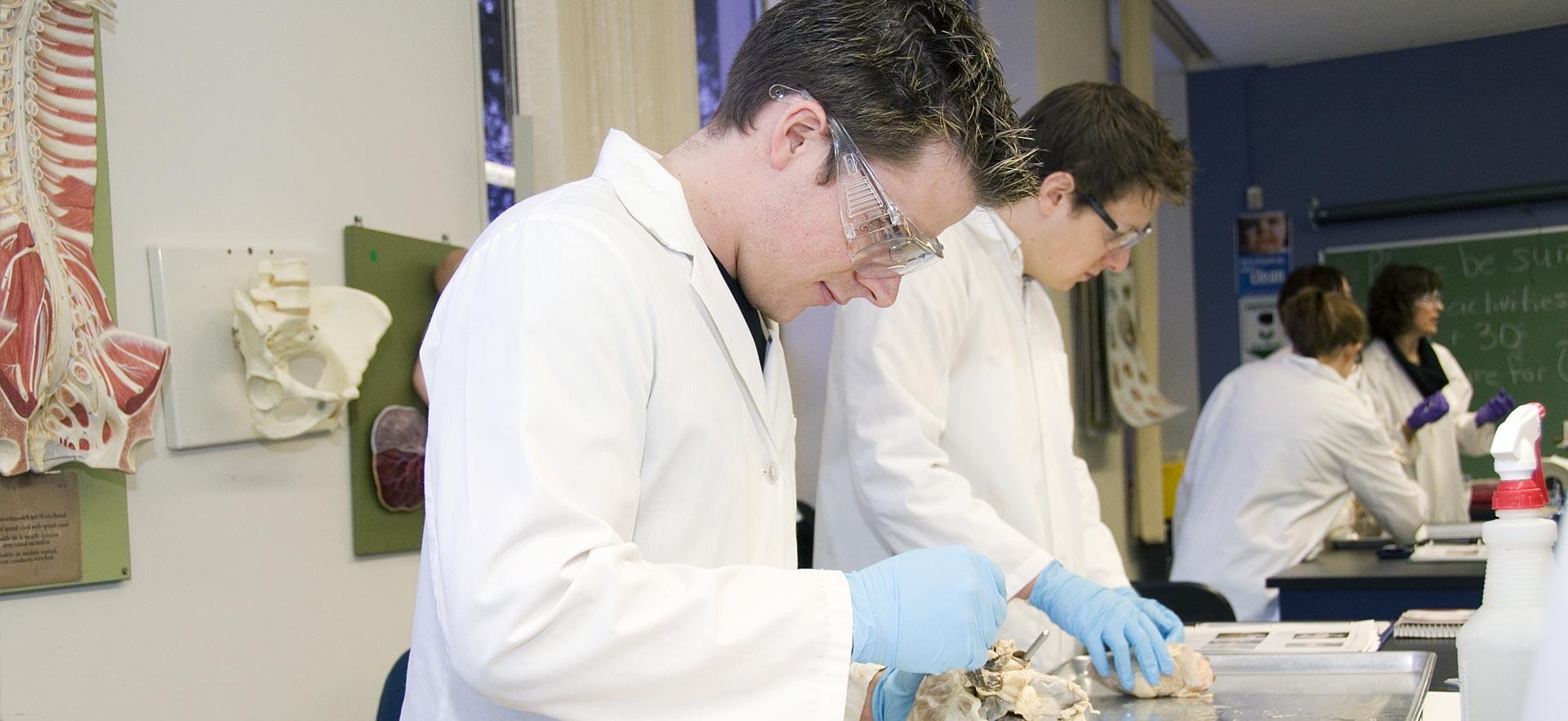 Image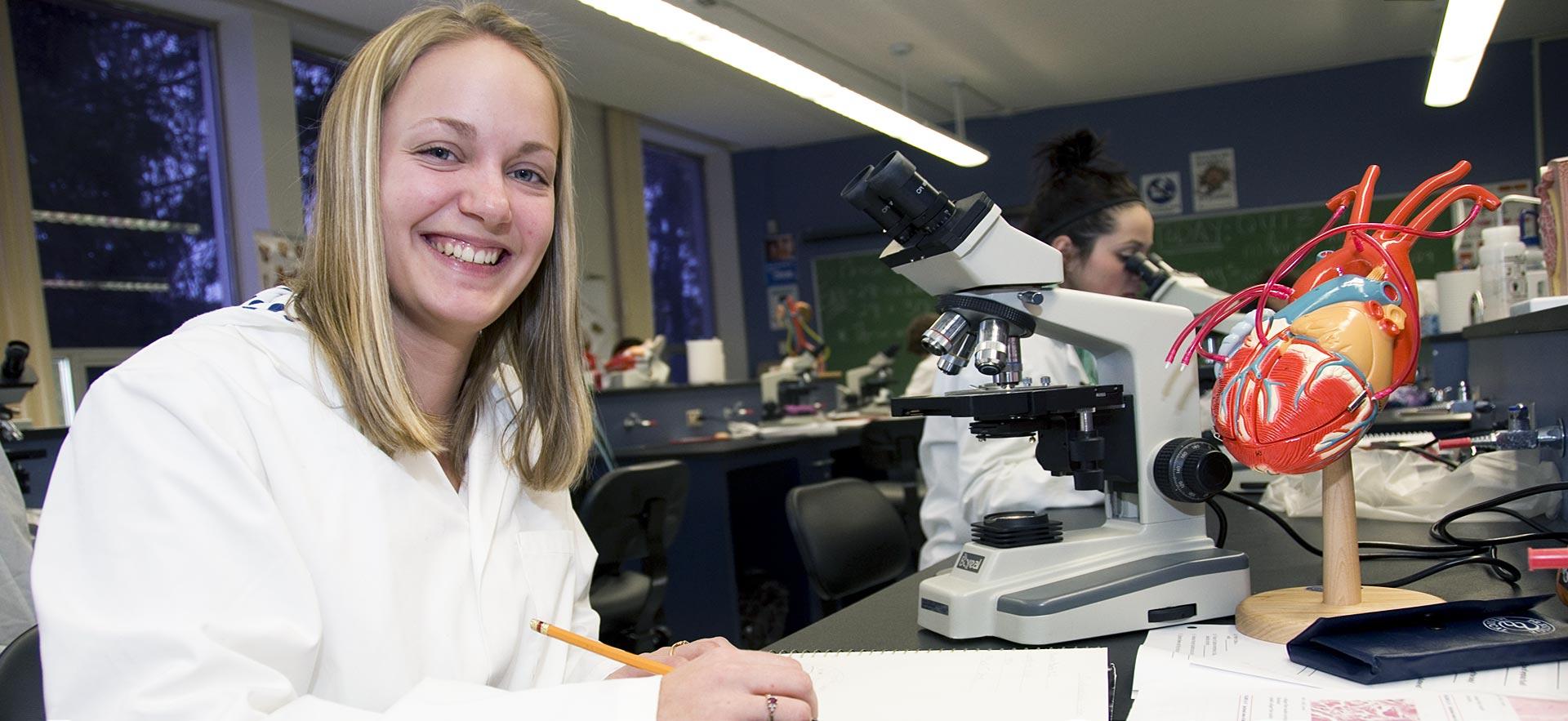 Image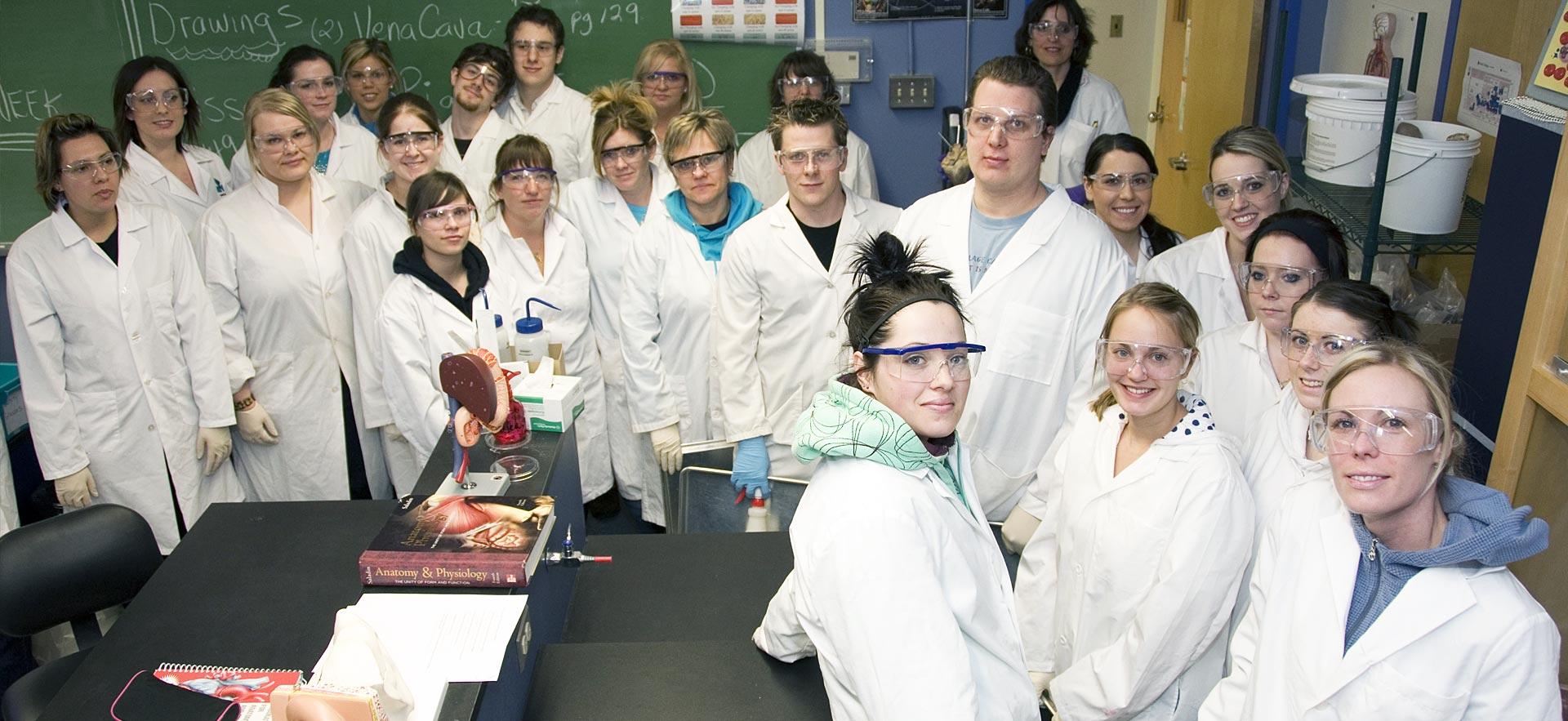 Media
Image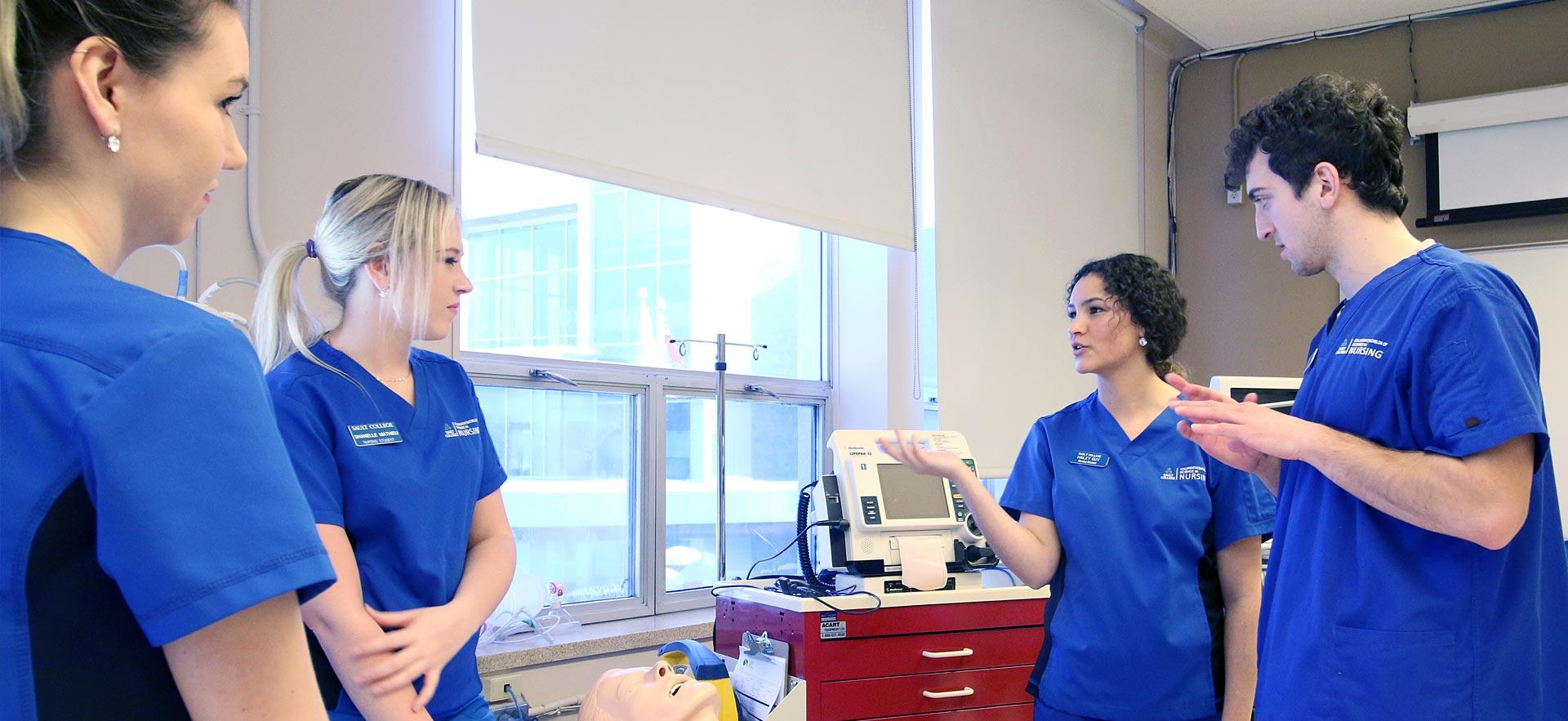 Image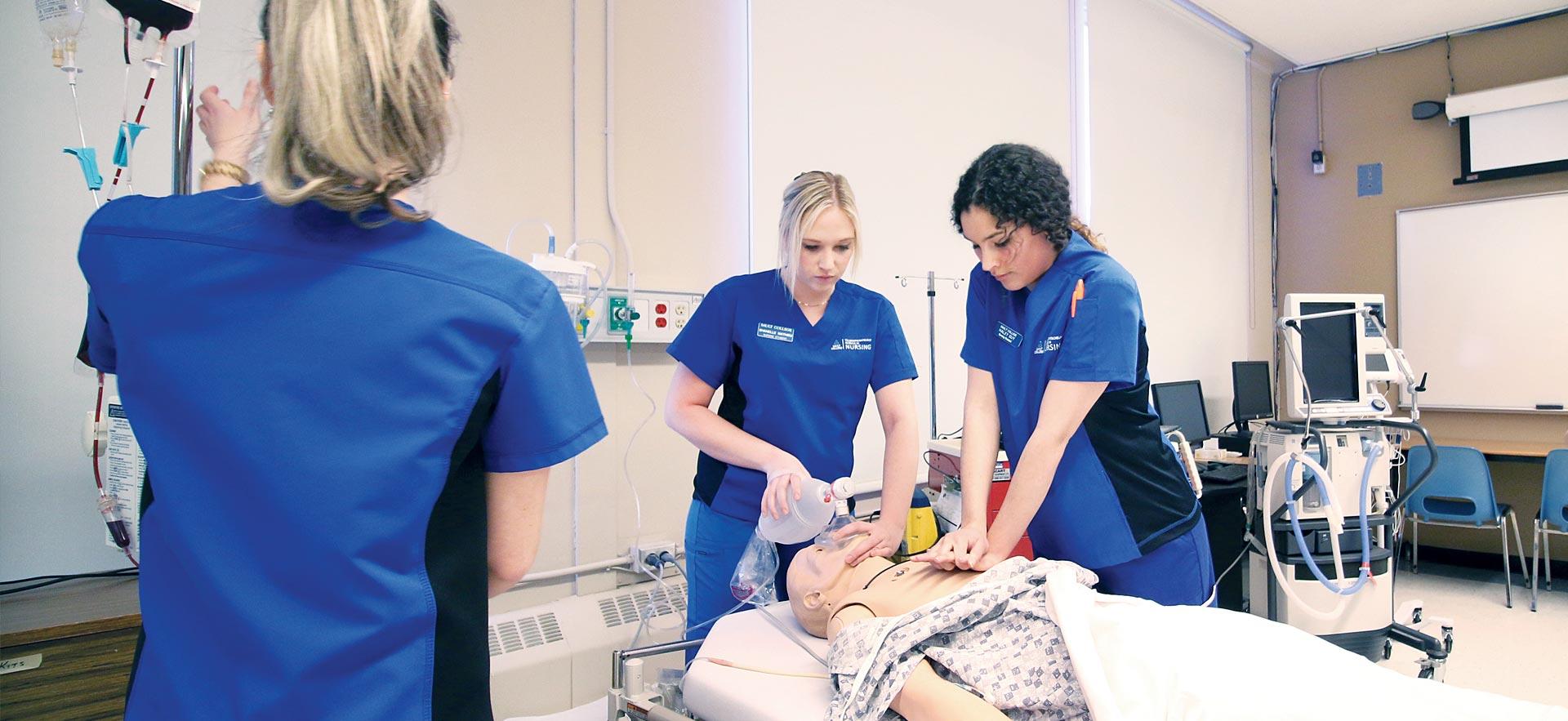 Image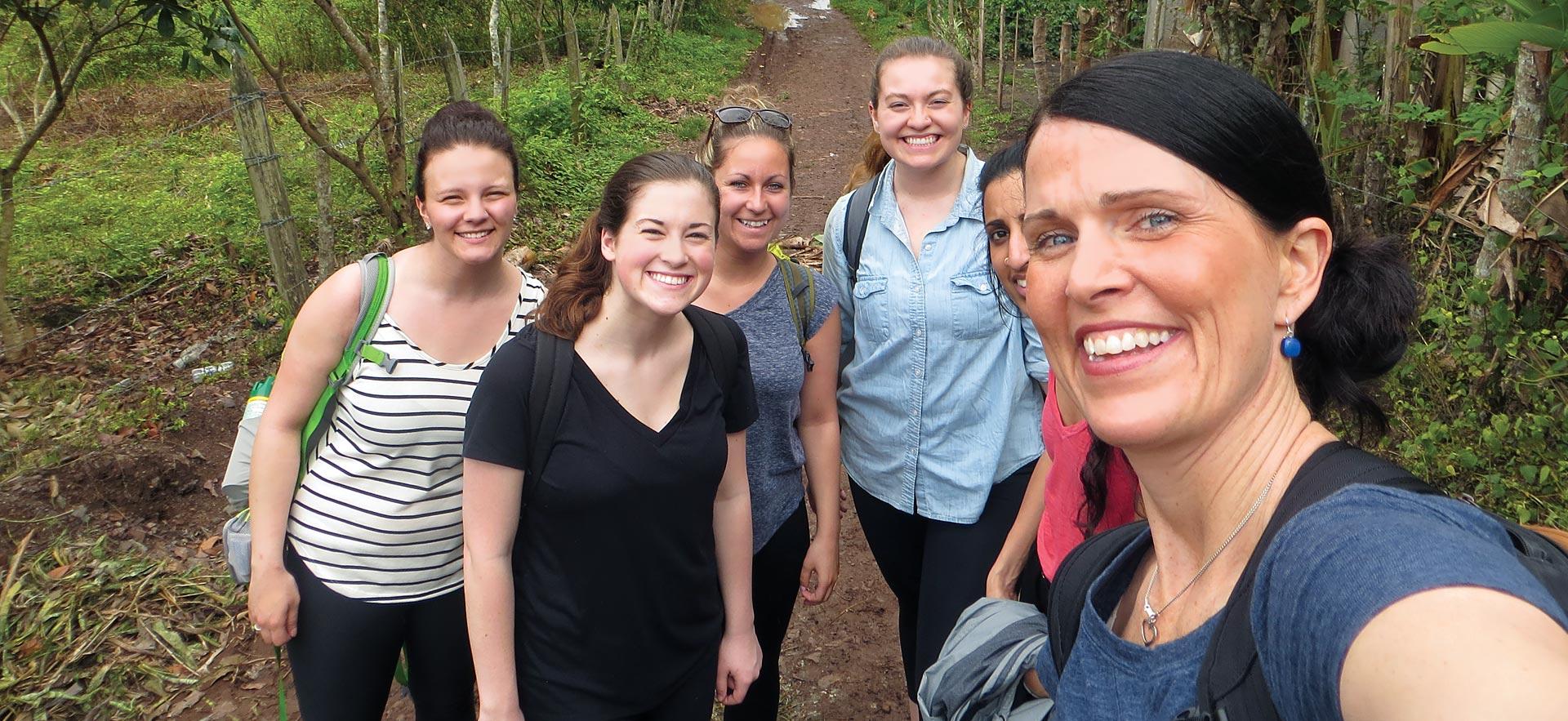 Image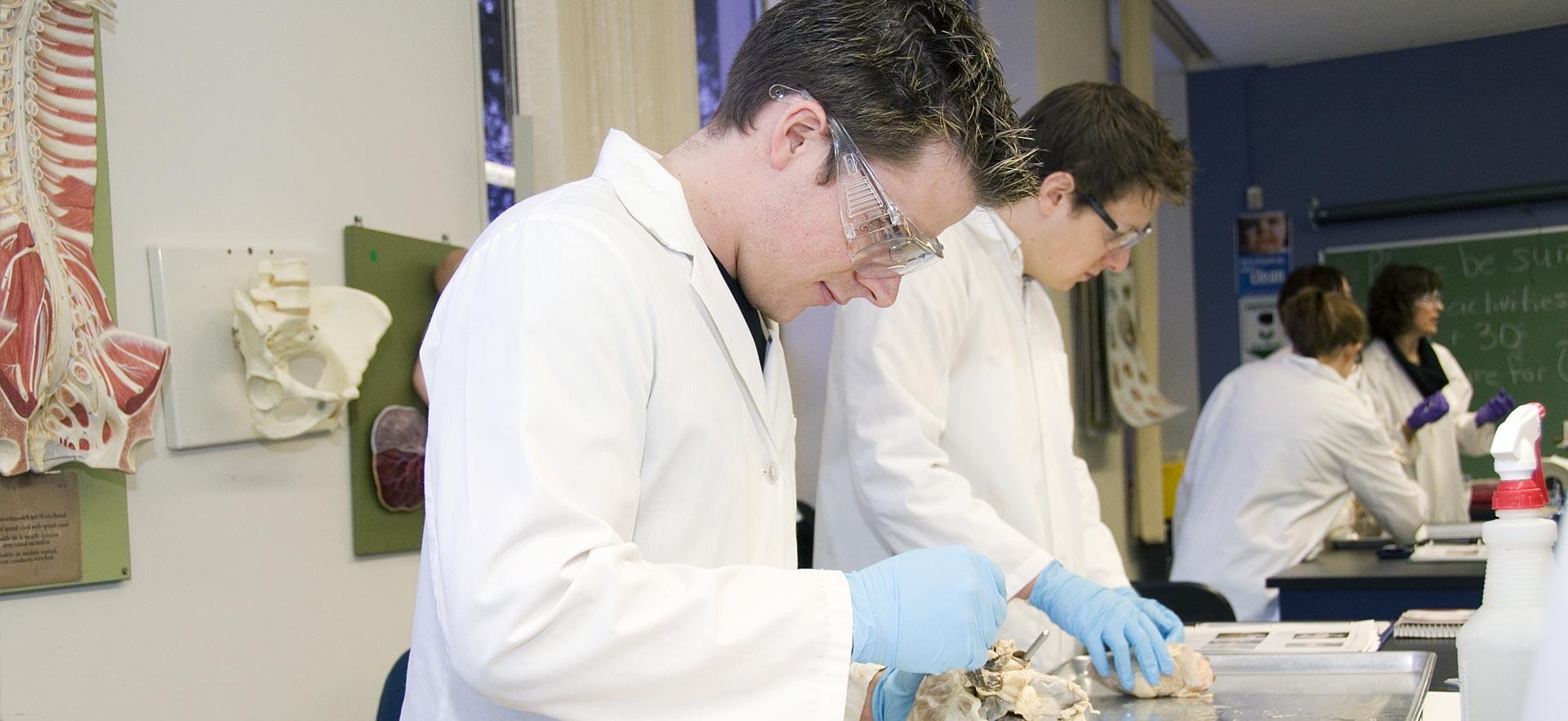 Image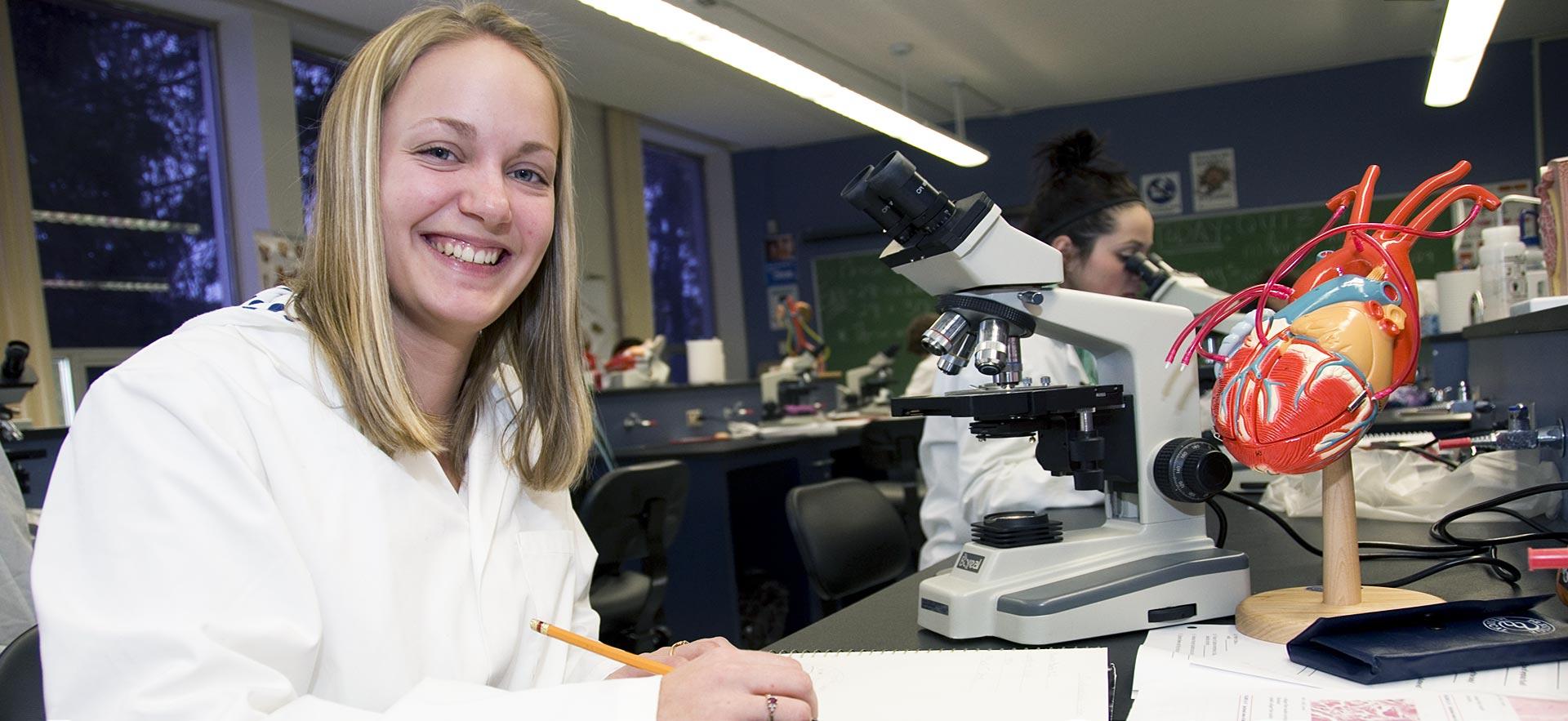 Image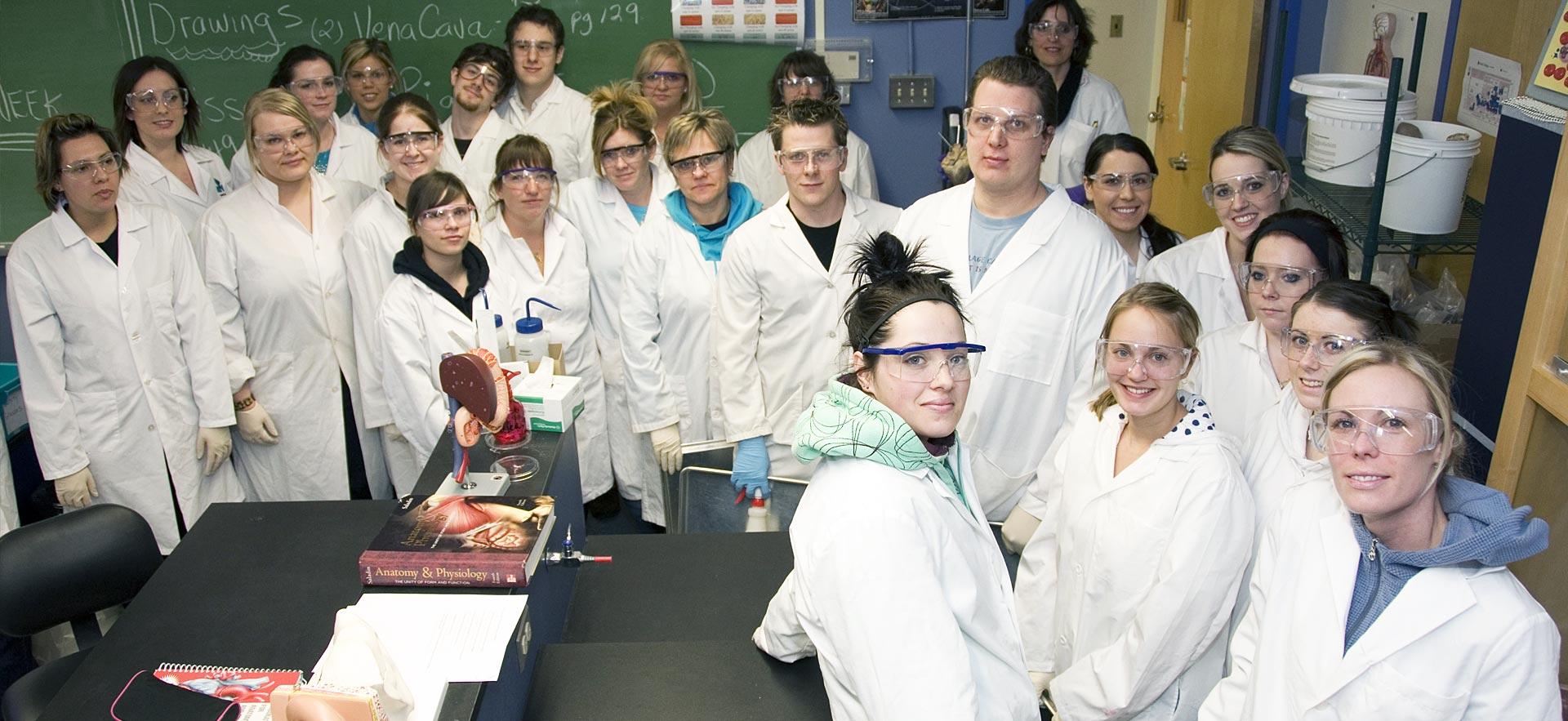 Requirements & Program Information
Admission requirements:

Ontario Secondary School diploma (OSSD) with a minimum average of 75% in the following courses:
One 4U English
One 4U Biology
One 4U Chemistry
One 4U Mathematics
Two other 4U/M courses (highest grades are used)
OR   successful completion of the Pre-Health Sciences - Pathways to Advanced Diplomas & Degrees Program (3065) with a minimum 3.0 GPA



Applicants with a year or more post-secondary experience, must have a minimum 2.8 GPA or 70% in their most recent year of study.

Mature students are advised to contact the Registrar`s Office for further information regarding admission.
This is typically a high demand program thus meeting the minimum prerequisite average or completing Pre-Health Sciences with the minimum GPA does not guarantee an offer of admission.
Applicants will be ranked based on the average of the required courses.
NOTE: Applicants and students in the Honours Bachelor of Science - Nursing program are required to disclose all education, which requires submission of all prior educational transcripts from high school and post-secondary studies. Failure to fully disclose your postsecondary transcript could be grounds for dismissal from the program, or disqualification from admission consideration.
Clinical/Lab and Field Placement Requirements
In order for students to be eligible to complete clinical placement, which is a mandatory component of education, specific clinical requirements must be satisfied, and documentation submitted by the due date identified for the program.

The absence of documentation for any requirements or failure to submit the requirements by the expected due date will result in the student being withdrawn from the course in which clinical placement is an element.  Tuition will not be refunded if access to clinical placement is denied.

CLINICAL REQUIREMENTS:


STANDARD FIRST AID
CPR - Basic Life Support Level (BLS) (annually) with AED, must be for Health Care Providers, no online courses are permitted
WHMIS (current)
N95 MASK FIT TESTING CARD (every 2 years), requires a clean-shaven face for appropriate fitting (recommended: students can/should attempt to be fitted for two sizes if possible)
IMMUNIZATIONS (see required immunizations below)
POLICE VULNERABLE SECTOR CHECK (PVSC) (annually), Level 3 Criminal Record Check (should be obtained/renewed as close to the start of the school year as possible, i.e. August)

Clinical Placement Requirements are due as indicated:
BScN Program - Year 1 - Day 1 of first semester
BScN Program - Year 2, 3, and 4 - Day 1 of returning semester

College Contact for Clinical Requirements:  Sydney.Sachro@saultcollege.ca


Please Note:

All original placement documentation must be submitted to the appropriate college contact by the program mandated deadlines. It is the responsibility of the student to keep up-to-date placement requirement documentation (and copies) to present to faculty and/or placement agencies as required.  The College does not retain copies of any placement requirements.

Students are responsible for the full cost of obtaining placement requirements. Tuition is not refunded if access to clinical placement is denied or if proof of requirements is not submitted within the required timeframes. 

Notice to International Students:

The necessary immunizations for your program can be obtained from your home country and you will need to submit those immunization records along with the College Health Form to the Sault College Health Centre.

All other requirements (Standard First Aid, CPR, WHMIS, N95 Mask Fit, Police Vulnerable Sector Check) must be obtained and completed after your arrival in Ontario.

As per Canadian Immigration policy, all International students completing a program with a practicum (field/clinical placement) component must obtain a Coop/Work Permit from Immigration, Refugees and Citizenship Canada stating that they are permitted to attend practicum as an integral part of their studies. International students will not be able to attend placement without obtaining this permit.

Clinical Requirement Specifics:

Students should endeavor to have all of their requirements completed prior to their program start date.  If unable to obtain all requirements prior to the program start date, a list of available resources in the community can be provided.  Sault College cannot guarantee that appointment dates or course times will be available prior to identified program deadlines.

Standard First Aid, CPR - BLS, and the N95 Mask Fit Test - are offered through Sault College`s Continuing Education Department. You may also access these courses through other providers as long as they meet the clinical/placement requirement specifications.

WHMIS - The WHMIS course is available to registered students free of charge on LMS (Learning Management System). Registration takes place after mid-August and mid-December when tuition has been paid.
Two Step TB Skin Test or Blood Test - Please be advised that the Step Two TB Skin Test is available locally through Algoma Public Health, however, testing, although offered weekly, is limited. It is our suggestion that you schedule this test early so that you complete the requirements by the deadlines listed on this page for your applicable program. Algoma Public Health contact information is (705) 541-7085. In the event that Algoma Public Health is not offering TB skin testing, please contact your health care provider and watch for information regarding clinics on LMS.

Immunizations:

Complete required immunizations prior to the first semester of the program and submit official records, along with the College Health Form, to the Sault College Health Centre.

1. 2 Step TB Skin Test or TB blood test or Clear Chest X-Ray
2. Annual 1 Step TB Test (as needed)
3. Measles/Mumps/Rubella
4. Tetanus/Diphtheria (within 10 years)
5. Chicken Pox (documented proof of immunity)
6. Hepatitis B
7. Influenza Vaccine (October/November)
8. COVID vaccine*

* The Covid-19 pandemic remains a global concern. We encourage you to speak to your healthcare provider regarding the decision to be vaccinated. Please note clinical placement agencies may require evidence of vaccination prior to entry to placement. Further, they may refuse a student entry who has not been vaccinated against Covid-19.

Police Vulnerable Sector Check (PVSC):

For your program, a Police Vulnerable Sector Check (PVSC) is required.

The laws, rules and regulations regarding the acquisition of a criminal record check and the Sault College Criminal Record Check Policy shall be enforced and applied in accordance a manner consistent with the Ontario Human Rights Code, the Police Record Checks Reform Act, 2015 and all other applicable statutes or regulations.

Why is a Police Vulnerable Sector Check necessary?

Sault College placements are bound by this policy and the policies of placement providers. Given this, the purpose of a police vulnerable sector check includes but is not limited to the following:

1. The protection of vulnerable persons;
2. The protection of the interests of students;
3. The protection of the interests of the placement agencies; and
4. The protection of the interests of the College and its employees.

Students will be advised of the process to obtain a Police Vulnerable Sector Check during the first month of the first semester or when field placements are confirmed.

Individuals who have charges, pending charges or a criminal conviction for which record suspension has not been granted, must contact the College Contact listed above for their program. A meeting will be scheduled with the Chair to discuss their ability to participate in experiential learning in order to complete all program graduation requirements. If a student fails to disclose this information, their academic status will be adversely affective. Prospective students should know that if a criminal record exists, the student's ability to complete the academic requirements and graduate from their program may be in jeopardy.

Student questions about the Police Vulnerable Sector Search and the submission of these documents may be made to the College Contact listed above for their program.

Please visit the Sault College Criminal Record Check Policy and procedural information located on the Student Portal. On the Student Portal, select Support Services, then select Forms and Policies.

Students must also sign a Statement of Confidentiality.
Career Path
You will be prepared for nursing in traditional settings: community, private practice, acute and chronic care

hospitals and settings yet to be realized. Over the next ten years there is an expected shortage of nurses
provincially, nationally and internationally. Once you graduate, you may choose to specialize in an area of
nursing practice or continue on with your studies at the graduate and post graduate levels. Sault
College Honours BScN graduates will be prepared to create and influence the future of nursing
practice at a political, social and professional level by responding to and anticipating the changing health
care needs of society.

In Ontario, the Regulated Health Professional Act (RHPA) and the Nursing Act have conditions for provincial
registration that impact Ontario students entering and completing the Nursing program and writing the
National Council Licensure Examination - Registered Nurses (NCLEX-RN) required for licencing. These
conditions are required to protect public interest.

When applying for provincial registration with the College of Nurses of Ontario, information must be
provided about citizenship, previous incidence of criminal offences, professional misconduct, and
incompetence or incapacity in another health profession in Ontario, or in nursing in another jurisdiction.
Applicants must also provide information about any physical and/or mental disorders that make it
desirable, in the public interest, that the person not practice.

This new legislation for all individuals requesting registration should be reviewed by students applying to
the Nursing program. For information on the implications of this new legislation, call the College of Nurses
of Ontario at 1-800-387-5526 or view their web site, http://www.cno.org/en/become-a-nurse/
Dress code
Lab, Clinical and Community Dress Policies

Identification Pin (name tag) is worn in all hospital and community clinical experiences, as well as for
formal presentations.

Nursing Lab Classes/Data Collection: Students wear a royal blue polo shirt with the BScN logo and
professional black pants.

Community Placements: Students wear professional dress. Depending on the location; students may
choose their BScN royal blue polo shirt and professional pants in a neutral color.

Hospitals/Nursing Homes: Royal Blue Uniform with Sault College Honours Bachelor of Science - Nursing Program logo.
Warm-Up Jacket, is to be black with the Sault College Honours BScN logo.

Note: Uniforms with the BScN logo are available for purchase in the College Bookstore.

Shoes: Students should be careful and cautious of shoe heel height and shoe sole surface material to help
mitigate any risk of injury and ensure a safe environment (i.e. non-slip).

* Clinical footwear will have a closed toe and heel, be visibly clean, and must be designated only for clinical
practice. Athletic footwear is commonly worn. If you are unsure about the acceptability of your footwear,
please check with your clinical course professor.

Jewellery: small studs, watch with a seconds hand.

Hair: off collar and face. Lengthy braids and ponytails must be secured up above the collar. Facial hair, if
present, must be neatly groomed.

Nails: appropriately cut, no polish including clear; false nails not permitted.

Body adornment is to be consistent with clinical agency policy.

Fragrance free products are required. Attention to personal hygiene is expected.
Fees & Costs
Domestic
International
Tuition
Ancillary
Tuition
Ancillary
$6,354.00
$1,160.00
$18,250.10
$1,810.00
These fees are for the 2023-2024 academic year (year 1 of study), and are subject to change. Please visit your Student Portal to view your Schedule of Fees.
Contact
Program College Contact: Lori Zuccato, 705-759-2554 ext 2689, lori.zuccato@saultcollege.ca