Two for the price of one! It doesn't get any better than that. 
FALL 2023 DUAL CREDITS
FALL 2023 DUAL CREDITS FOR DISTRICT SCHOOLS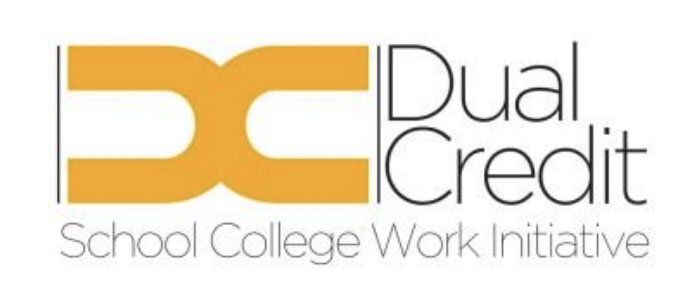 You can start your career by taking college classes while still in high
school. Not only do they give you a sneak peek into the college 
atmosphere and life, they also give you a glimpse into a career that
you'll love. Plus, they count as both a high school and a college credit.

Dual Credit Program Information
SCWI Dual Credit Student Information
How to Apply
If you are a student in grade 11 or 12 talk to Student Services at your high school to determine your eligibility.
Overview
Dual Credit Courses are courses, identified by the School College Work Initiative (SCWI), taken by a secondary school student for which the student receives both a college credit and a non-compulsory secondary credit.
Course Selection and Rationale
The course selection and rationale are as follows:
The student selects the dual credit course from the list identified by SCWI.
The student completes the Dual Credit Interest and Rationale form and submits the form to Student Services.
Student Services schedules an interview with suitable applicants.
Ranking of Dual Credit Applications
The Principal, in consultation with Student Services and staff, ranks the suitable applicants for this opportunity. Selected applicants complete the Dual Credit Registration form, which are signed by all parties. Student Services forwards the ranked Dual Credit Interest and Rationale forms and the signed Dual Credit Registration forms to the SCWI Steering Committee.
Registration Procedure
The SCWI Steering Committee notifies Student Services of the approved students. The SCWI Steering Committee forwards the signed Dual Credit Registration forms to the Sault College contact.
Programs
Career Exploration (semesters 1 and 2)
Hospitality & Tourism (semester 2)
Arts & Culture (semester 2)
Construction (semester 2)
Engergy (semester 2)
Manufacturing (semester 2)
Health & Wellness (semester 2)
District Schools (semester 2)
Outdoor Education/Environmental (day program) (semester 1 and 2)
Motive Power/Coop/Dual Credit (semester 2)
Level One Apprenticeships (semester 1)
Who is eligible for a dual credit course?
Students in grade 11 or grade 12 who are working towards their OSSD who have completed the Dual Credit and Rationale form will be considered for a dual credit opportunity by the secondary school principal.
How will students get to Sault College?
SCWI provides a bus pass for dual credit students, where appropriate.
How are students informed about dual credits?
Secondary schools are being asked to announce this dual credit opportunity. A representative of the SCWI Steering Committee will visit high schools to provide information. Dual Credit Interest and Rationale form will be made available in the Student Services offices of secondary schools.
Who decides which student will have dual credit opportunities?
The secondary school principal in consultation with student services and staff will interview and rank suitable dual credit applicants.  Student selection by the SCWI Steering Committee will be based on the school rankings, Board allocations, and seat availability.
How will the college credit be recorded?
Each secondary student receives a college grade report showing the course taken as well as the final grade received.  This grade report is printed by the student from Sault College's Student Portal.  A copy is mailed to the Principal's Office by the Registrar's Office.
How will the secondary credit be recorded?
The secondary course code, course name, and final grade will be recorded on the student's secondary transcript.
When is the Orientation Session being held?
Details will be sent to successful applicants.  Orientation Sessions are usually held one week prior to course start.