Start Dates: Sep 2023, Jan 2024
Overview
Whether it's in the kitchen or running a successful restaurant, the real you was born to lead. The Culinary Management program takes your skills and passion for the culinary arts to dynamic kitchens through paid co-ops.
Learn about contemporary and classical food preparation techniques in state-of-the-art food labs, tap into your creativity as you menu plan and gain a deep understanding of food and beverage management.
There's a team of professionals out there waiting for you.
Seize the opportunity build on your love of food alongside skilled chefs and experienced restauranteurs in popular local restaurants. Plus, learn all sides of the restaurant business from legal to management.
What do students love about co-operative education at Sault College? You will gain experience over a summer co-op placement - while earning money!
It's time to find your flavour here.
Salt Free Canada Cookbook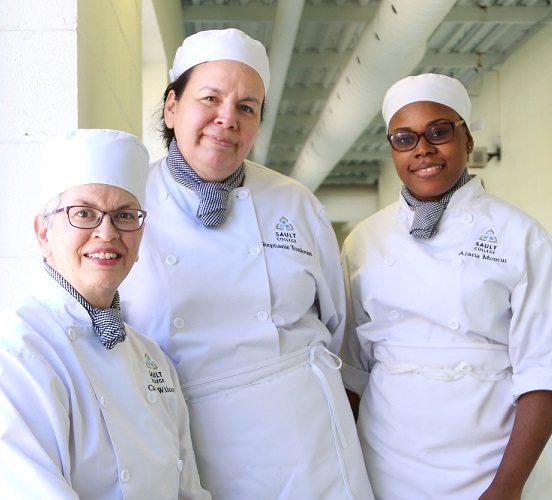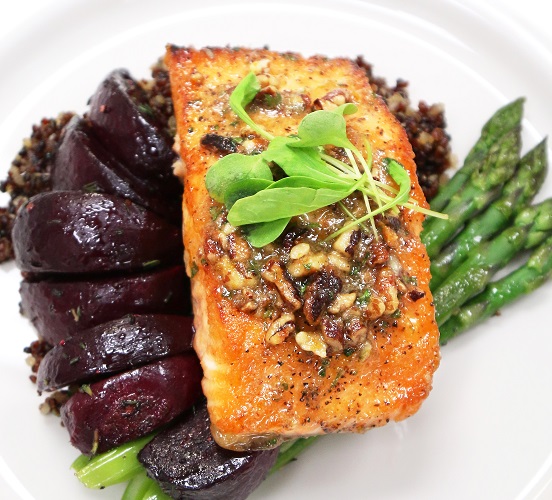 Our Culinary  programs were asked to contribute to a cookbook for Salt Free Canada, which was a project led by Colleges and Institutes Canada. This project allowed students in our culinary programs to work on their passion in culinary by developing a salt-free recipe.  The national cookbook UNSALTED was published in 2022 and included  the recipe of students Cathy Wilcott, Stephanie Toulouse and Azaria Moncur, supported by our Culinary professors Sarah Birkenhauer, Deron Tett and Jennifer Healey. The image of their delicious salmon dish  was even selected as a feature image on the cookbook's cover.
Click here to  learn more about the Salt Free Canada cookbook
Requirements & Program Information
Ontario Secondary School Diploma with Grade 12 English (C) ENG4C and Grade 11 Foundations for College Math (C) MBF3C, or mature student status.
Career Path
Graduates of the Culinary Management program may find employment in resorts, hotels, restaurants, health care facilities, cruise lines, catering services, private clubs and industrial kitchens in advanced positions depending upon their work experience and completion of the apprenticeship training.
Dress code
Requirements in Labs:
Clean uniform required daily - purchase two complete sets of uniforms (coat, checkered pants, necktie, apron & chef`s hat)
Side towels (4) to be purchased
Black non-slip shoes
Knife Kit (Optional)
For a complete list of required supplies, etc., see the Books and Supplies list available online.
In order to abide by the Provincial Health Regulations, students must have their hair controlled above the collar and hairnet must be used while in the food preparation areas. Students must be clean-shaven. Beards and/or moustaches may be permitted if they are trimmed and neatly maintained at the criteria of the Hospitality Department and health regulations regarding hair control.
Fees & Costs
Domestic
International
Tuition
Ancillary
Tuition
Ancillary
$2,716.50
$1,845.00
$15,469.40
$1,845.00
These fees are for the 2023-2024 academic year (year 1 of study), and are subject to change. Please visit your Student Portal to view your Schedule of Fees.
Contact
Program Coordinator: Sarah Birkenhauer, (705) 759-2554 ext 2588, sarah.birkenhauer@saultcollege.ca
September and January intakes are available for this program. Please contact the Registrar`s Office for further information.
This is a co-operative education program. Students are required to complete at least one co-op work placement (CWR100) in order to graduate.