Overview
Does seeing others succeed get your heart racing? Fitness and Health Promotion at Sault College will have you inspiring people and communities to live their best lives through custom wellness programs.
This 2-year program builds on your passion for health and wellness by teaching you how to assess, design and implement fitness and health programs for individuals to groups of all needs.
You know how to meet goals. It's time to show the world that they can do it too!  
 
And graduates looking to pursue a degree in Sport Sciences, Kinesiology or exercise science can transfer eligible earned credits to programs at our partnering universities. Yep, you can earn a diploma AND degree in as little as four years!
 
Oh, and also as part of the program, qualified students may have the opportunity to earn nationally recognized industry certifications.  
 

Media
Image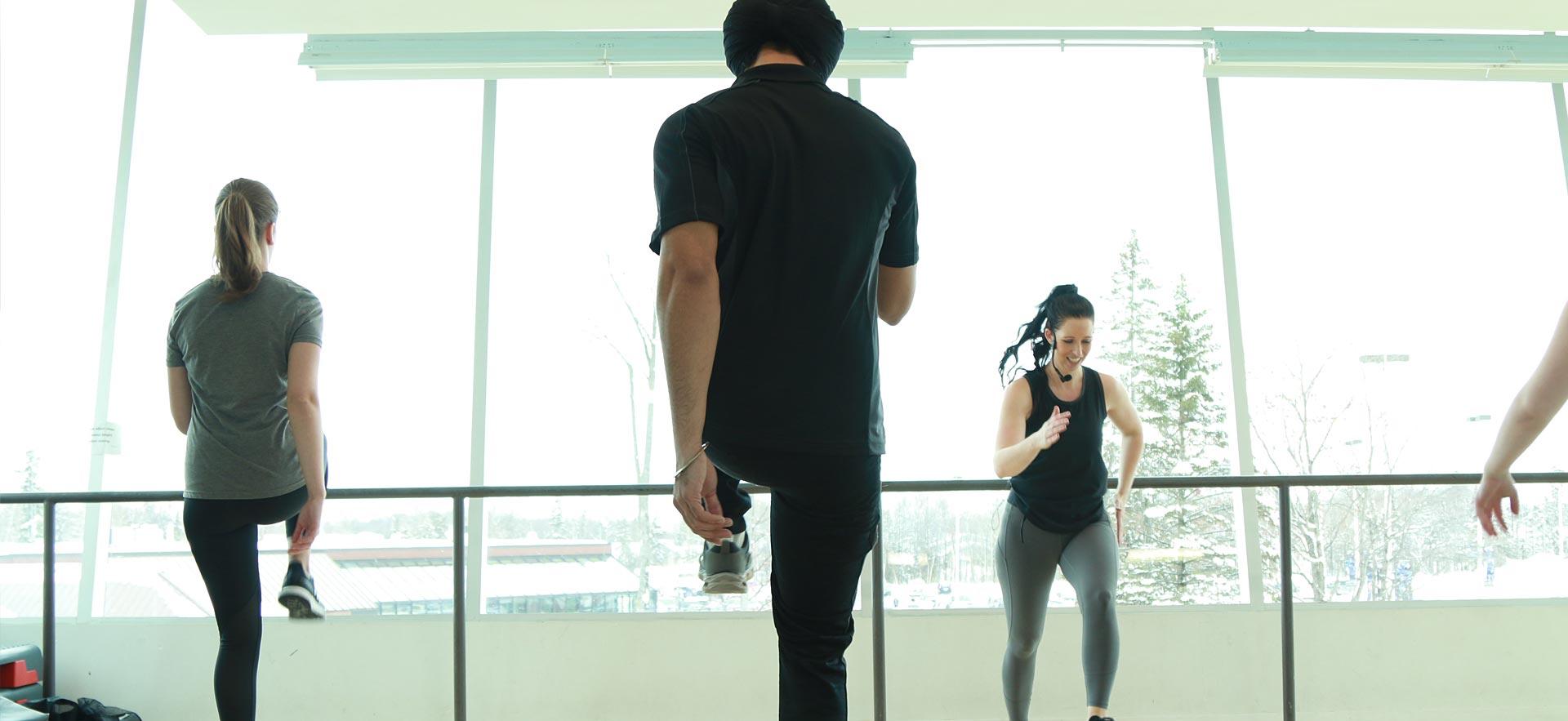 Image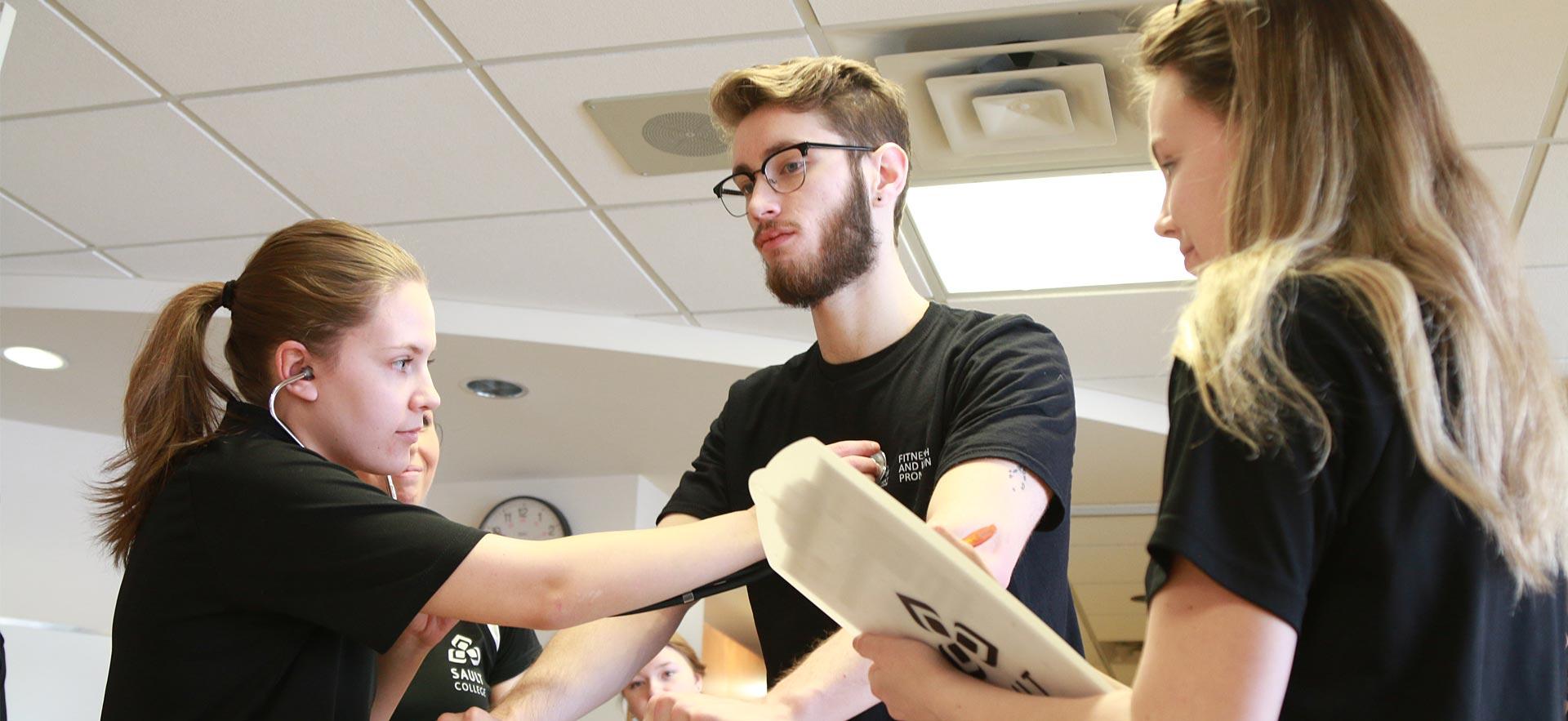 Image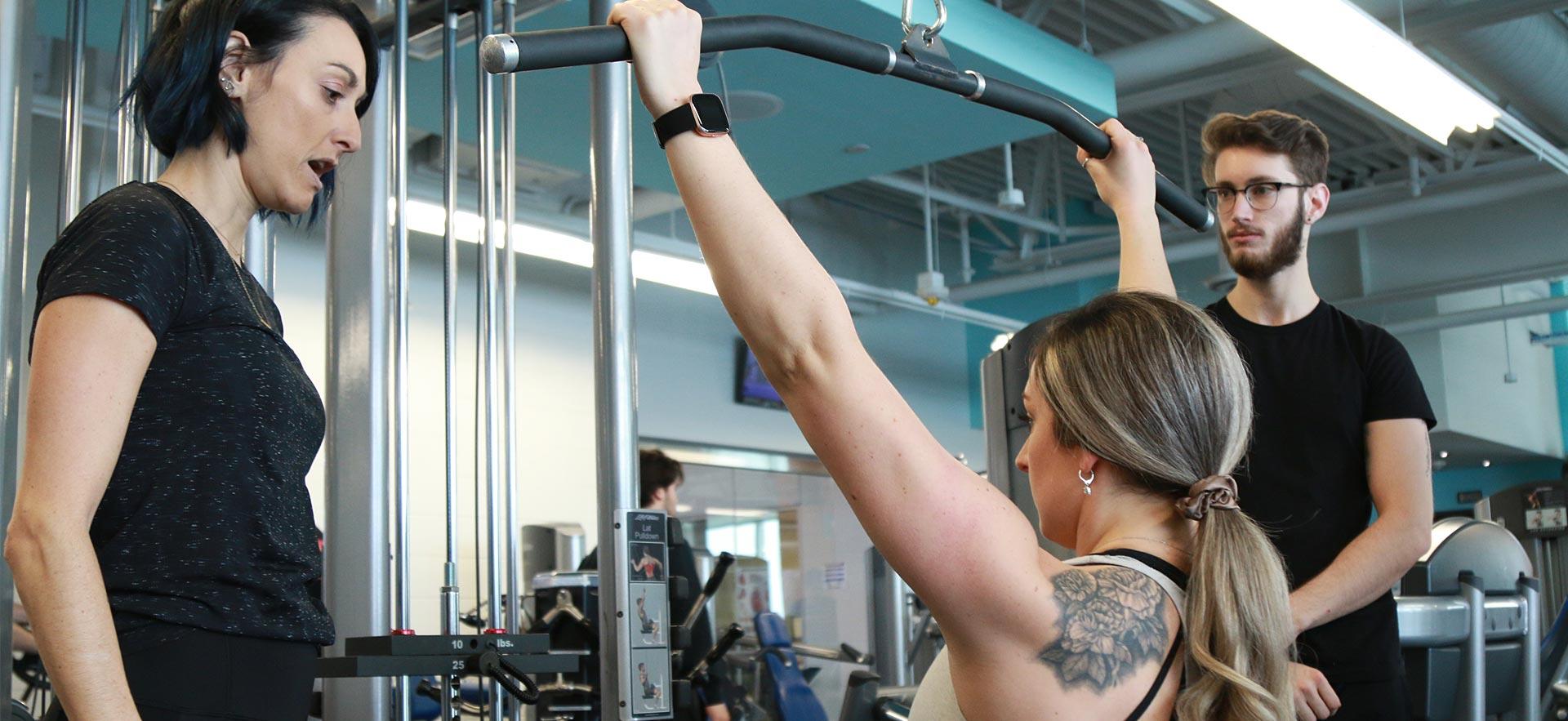 Image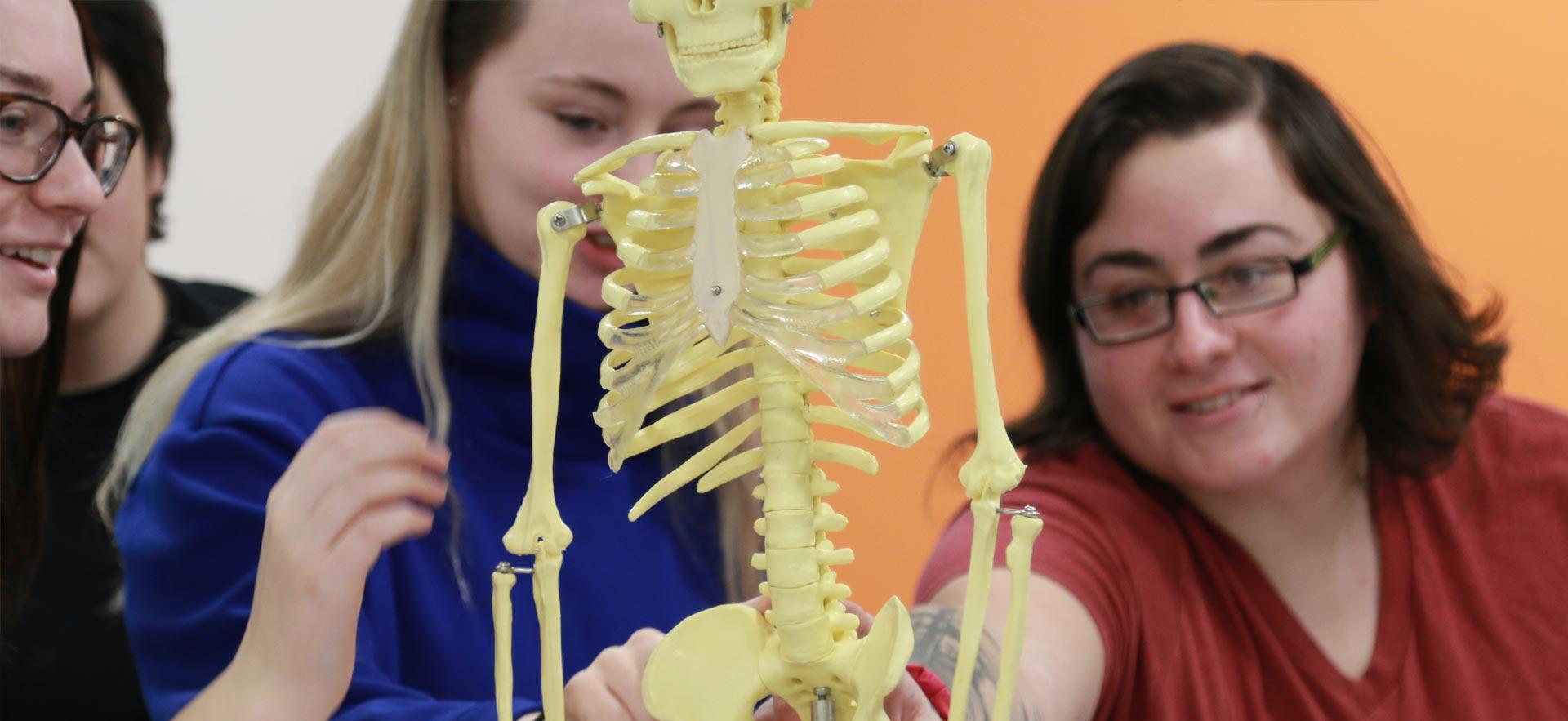 Image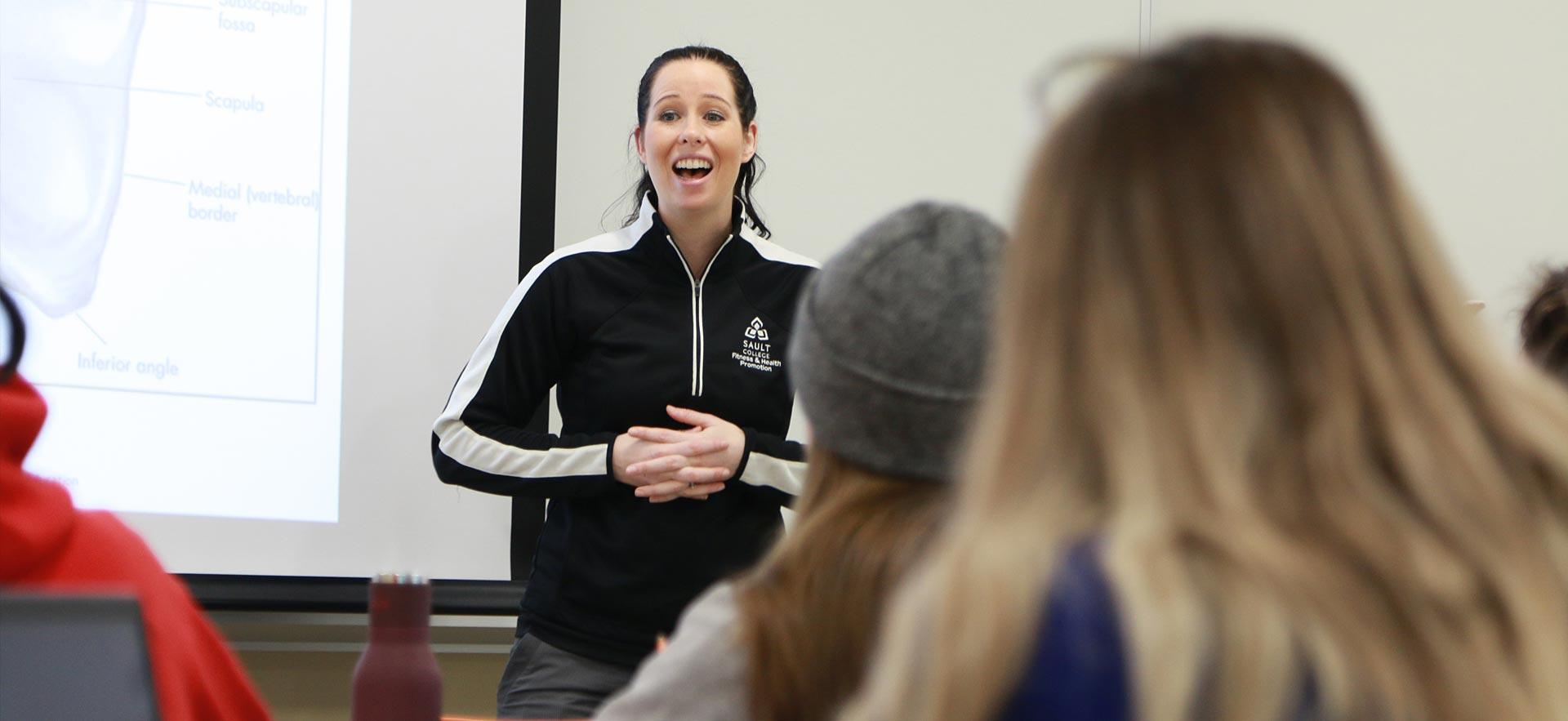 Image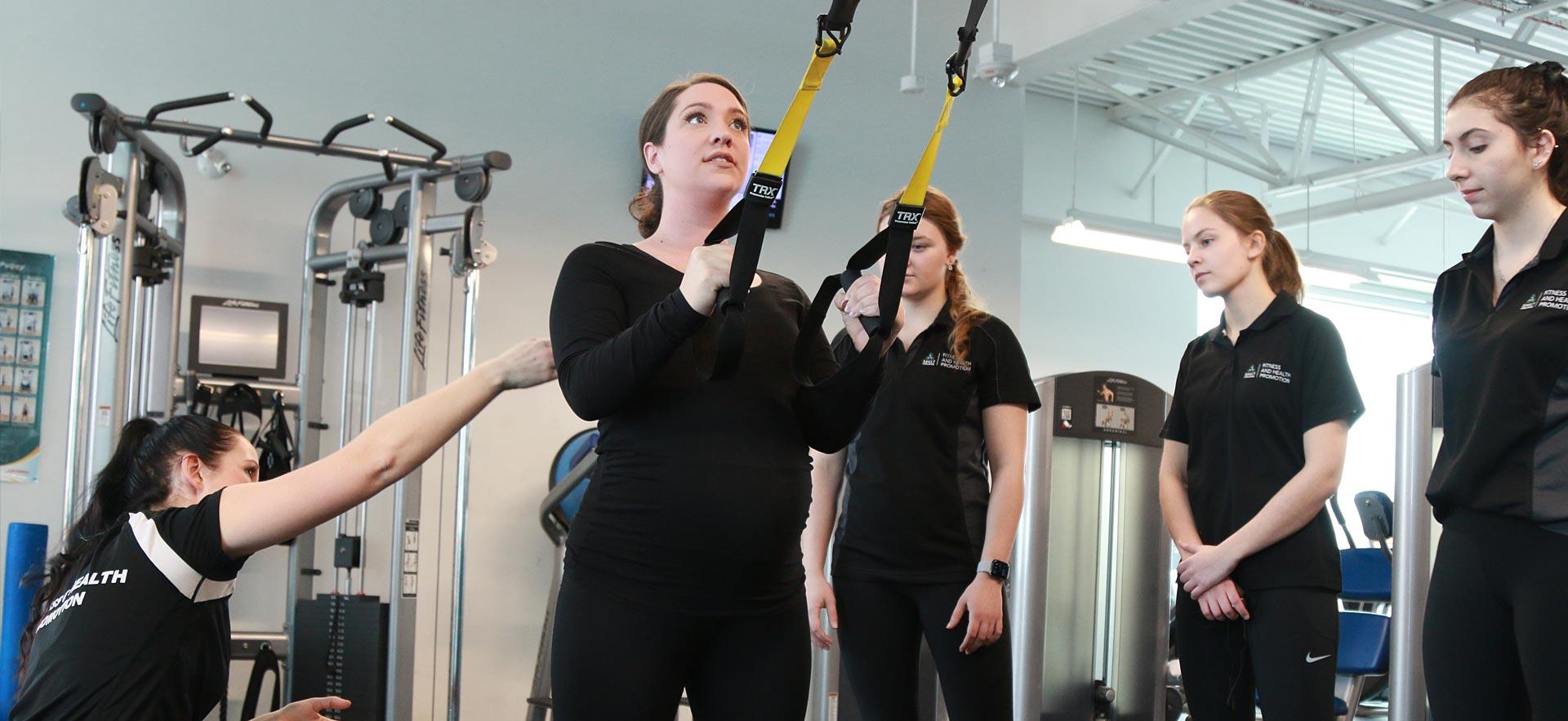 Media
Image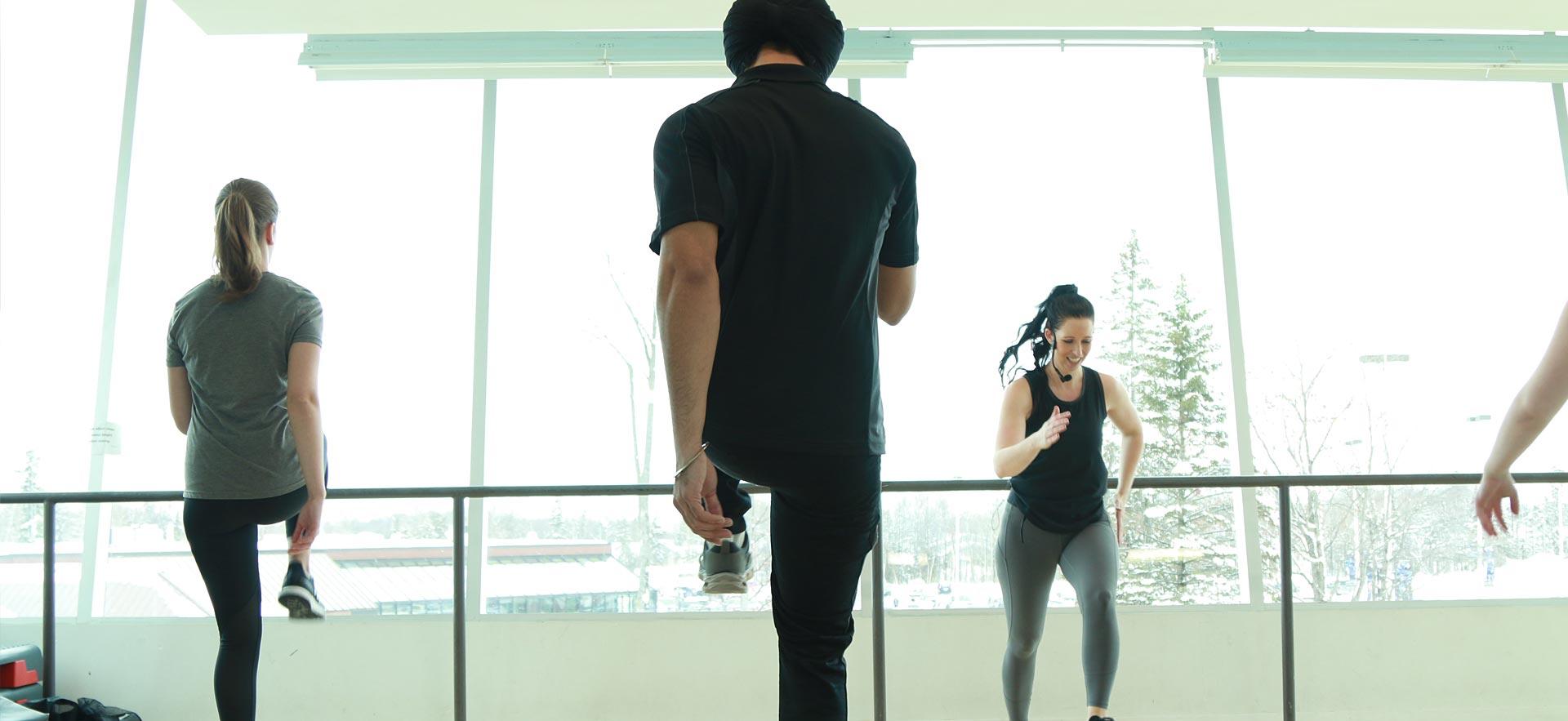 Image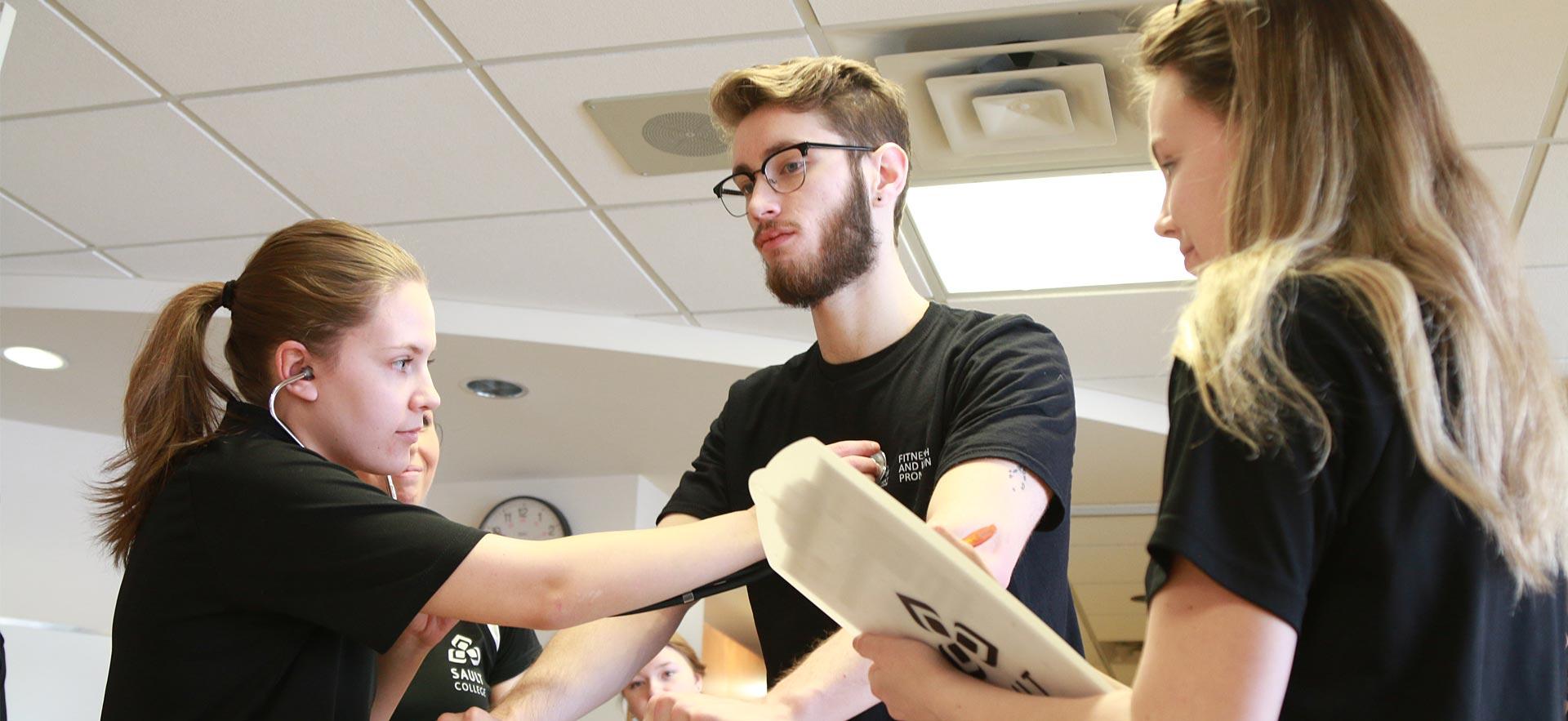 Image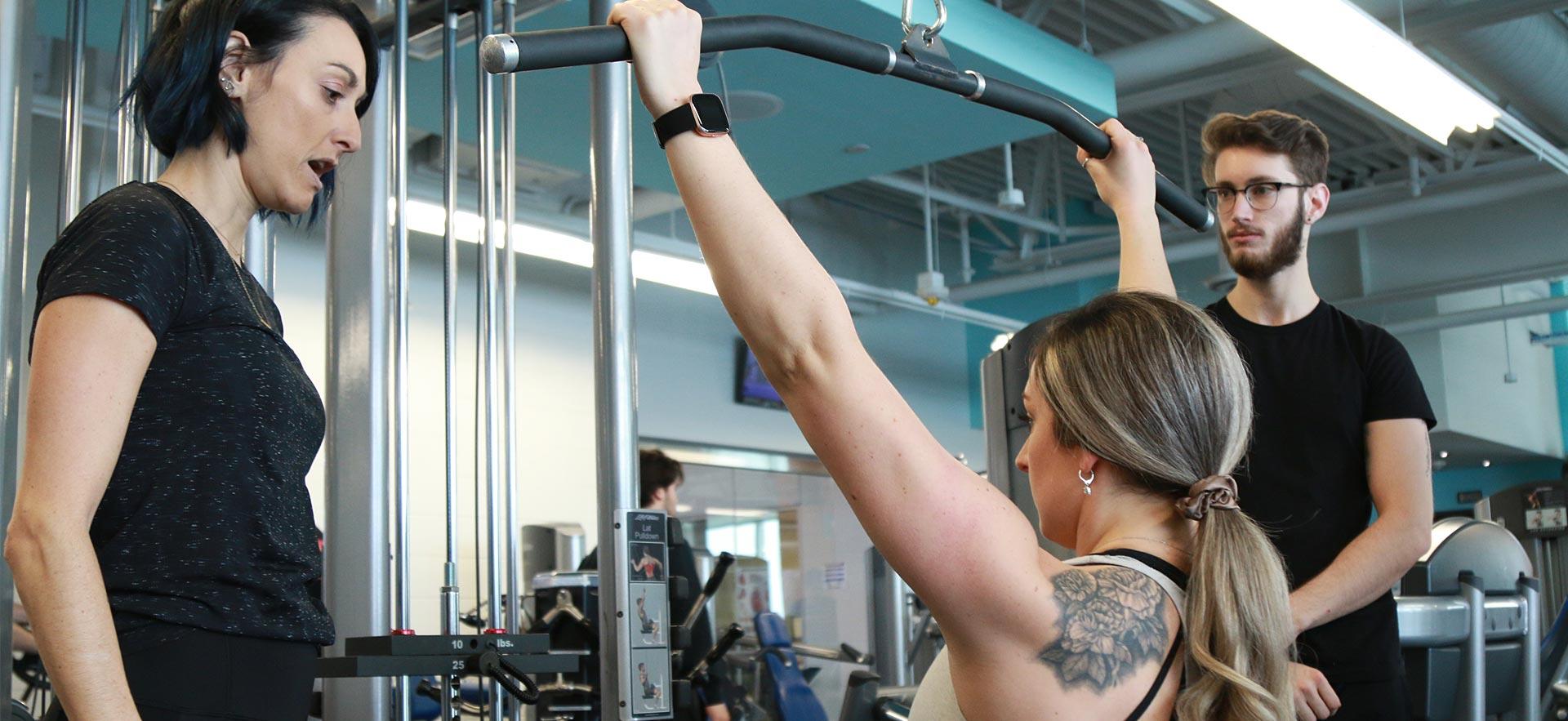 Image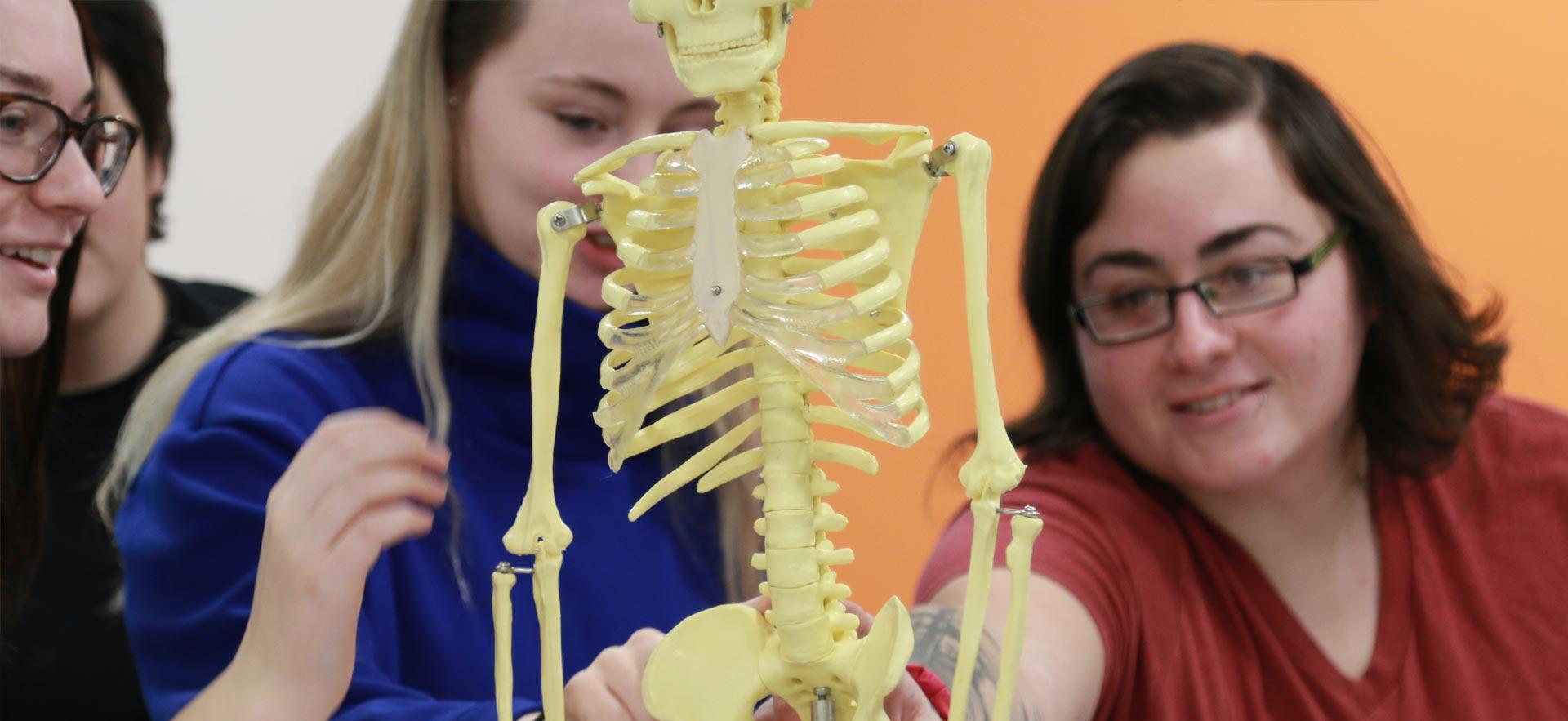 Image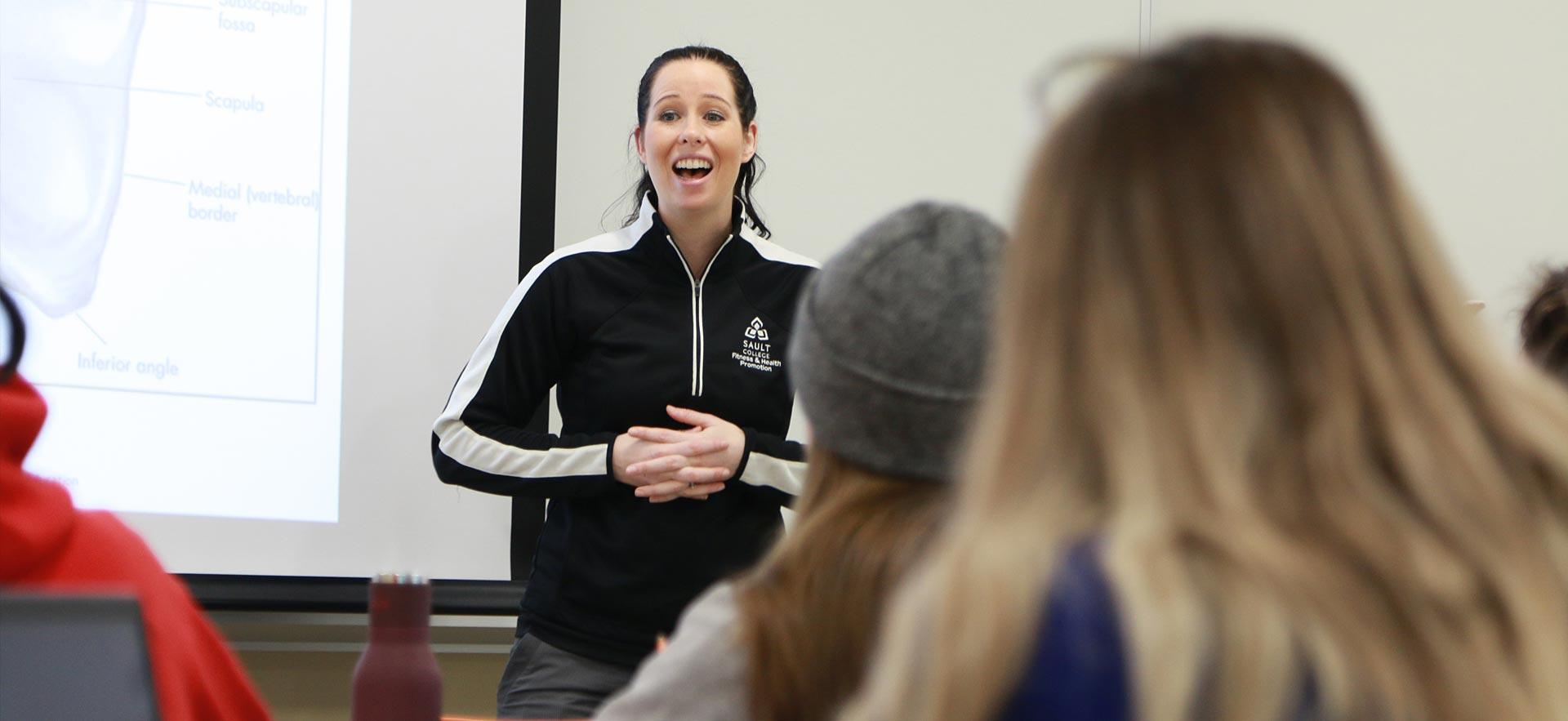 Image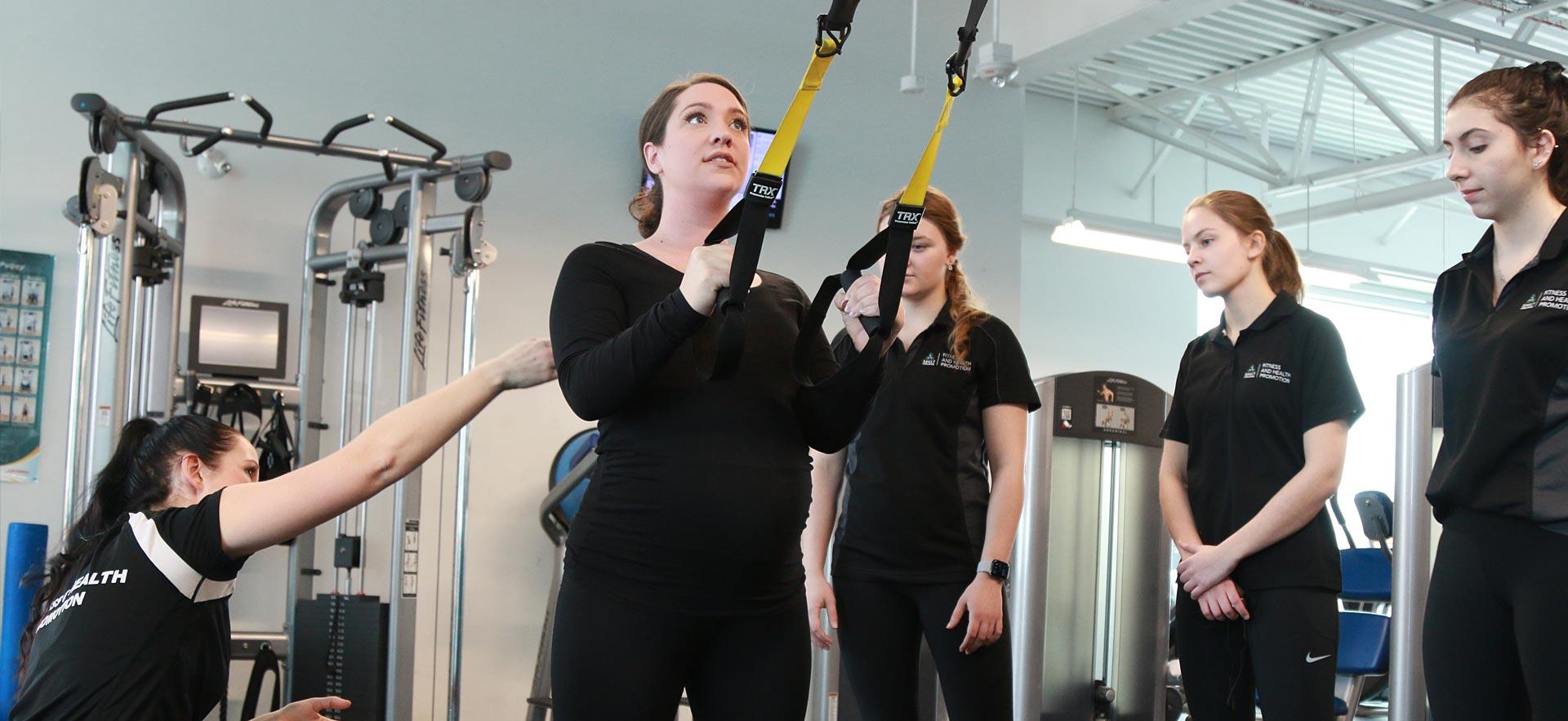 Want to see more of our campus virtually?  View all our campus stops in our fully immersive experience. Launch
Requirements & Program Information
Ontario Secondary School Diploma with Grade 12 English (C or U) and at least one of the following senior sciences: Grade 11 Biology or Physics (C) or Grade 12 Chemistry (C) or Grade 12 (U) Exercise Science or mature student status.
Clinical/Lab and Field Placement Requirements
Students will participate in field placement during all four semesters of the program.  In the latter part of semester four, you will complete fieldwork hours on a full-time basis for at least 6-10 weeks, gaining valuable work experience and employment references.
In order for students to be eligible to complete field placement, which is a mandatory component of education, specific placement requirements must be satisfied, and documentation submitted by the due date identified for the program.
The absence of documentation for any requirements or failure to submit the requirements by the expected due date will result in the student being withdrawn from the course in which field placement is an element.   Tuition will not be refunded if access to clinical placement is denied.
Placement Requirements:
STANDARD FIRST AID
CPR – Level C (annually) with AED, no online courses are permitted
WHMIS
IMMUNIZATIONS
POLICE VULNERABLE SECTOR CHECK (PVSC) (annually), Level 3 Criminal Record Check
Clinical Placement Requirements are due as indicated:
Fitness and Health Promotion (3040) - Year 1 - Due Date - 8th week of first semester
Fitness and Health Promotion (3040) - Year 2 - Due Date - As Communicated



College Contact for Clinical Requirements:  Sydney.Sachro@saultcollege.ca
Please Note:
All original placement documentation must be submitted to the appropriate college contact by the program mandated deadlines. It is the responsibility of the student to keep up-to-date placement requirement documentation (and copies) to present to faculty and/or placement agencies as required.  The College does not retain copies of any placement requirements.
Students are responsible for the full cost of obtaining placement requirements. Tuition is not refunded if access to clinical placement is denied or if proof of requirements is not submitted within the required timeframes.
Notice to International Students:
The necessary immunizations for your program can be obtained from your home country and you will need to submit those immunization records along with the College Health Form to the Sault College Health Centre.
All other requirements (Standard First Aid, CPR, WHMIS, Police Vulnerable Sector Check) must be obtained and completed after your arrival in Ontario.
As per Canadian Immigration policy, all International students completing a program with a practicum (field/clinical placement) component must obtain a Coop/Work Permit from Immigration, Refugees and Citizenship Canada stating that they are permitted to attend practicum as an integral part of their studies. International students will not be able to attend placement without obtaining this permit.
Clinical Requirement Specifics:
Students should endeavor to have all of their requirements completed prior to their program start date.  If unable to obtain all requirements prior to the program start date, a list of available resources in the community can be provided.  Sault College cannot guarantee that appointment dates or course times will be available prior to identified program deadlines.
Standard First Aid and CPR – C - are offered through Sault College`s Continuing Education Department. You may also access these courses through other providers as long as they meet the clinical/placement requirement specifications.
WHMIS - The WHMIS course is available to registered students free of charge on LMS (Learning Management System). Registration takes place after mid-August and mid-December when tuition has been paid.
Two Step TB Skin Test or Blood Test - Please be advised that the Step Two TB Skin Test is available locally through Algoma Public Health, however, testing, although offered weekly, is limited. It is our suggestion that you schedule this test early so that you complete the requirements by the deadlines listed on this page for your applicable program. Algoma Public Health contact information is (705) 541-7085. In the event that Algoma Public Health is not offering TB skin testing, please contact your health care provider and watch for information regarding clinics on LMS.
Immunizations:
Complete required immunizations prior to the first semester of the program and submit official records, along with the College Health Form, to the Sault College Health Centre.
2 Step TB Skin Test or TB blood test or Clear Chest X-Ray
Annual 1 Step TB Test (as needed)
Measles/Mumps/Rubella
Tetanus/Diphtheria (within 10 years)
Chicken Pox (documented proof of immunity)
Hepatitis B
Influenza Vaccine (October/November)
COVID vaccine*
* The Covid-19 pandemic remains a global concern. We encourage you to speak to your healthcare provider regarding the decision to be vaccinated. Please note clinical placement agencies may require evidence of vaccination prior to entry to placement. Further, they may refuse a student entry who has not been vaccinated against Covid-19.
Police Vulnerable Sector Check (PVSC):
For your program, a Police Vulnerable Sector Check (PVSC) is required.
The laws, rules and regulations regarding the acquisition of a criminal record check and the Sault College Criminal Record Check Policy shall be enforced and applied in accordance a manner consistent with the Ontario Human Rights Code, the Police Record Checks Reform Act, 2015 and all other applicable statutes or regulations.
Why is a Police Vulnerable Sector Check necessary?
Sault College placements are bound by this policy and the policies of placement providers. Given this, the purpose of a police vulnerable sector check includes but is not limited to the following:
The protection of vulnerable persons;
The protection of the interests of students;
The protection of the interests of the placement agencies; and
The protection of the interests of the College and its employees.
Students will be advised of the process to obtain a Police Vulnerable Sector Check during the first month of the first semester or when field placements are confirmed.
Individuals who have charges, pending charges or a criminal conviction for which record suspension has not been granted, must contact the College Contact listed above for their program. A meeting will be scheduled with the Chair to discuss their ability to participate in experiential learning in order to complete all program graduation requirements. If a student fails to disclose this information, their academic status will be adversely affective. Prospective students should know that if a criminal record exists, the student's ability to complete the academic requirements and graduate from their program may be in jeopardy.
Student questions about the Police Vulnerable Sector Search and the submission of these documents may be made to the College Contact listed above for their program.
Please visit the Sault College Criminal Record Check Policy and procedural information located on the Student Portal. On the Student Portal, select Support Services, then select Forms and Policies.
Students must also sign a Statement of Confidentiality.
Career Path
Fitness and Health Promotion is an increasingly popular health field. As the health of our population continues to decline the need for prevention and promotion of healthy lifestyles increases. As a Fitness and Health Promotion graduate you will have the skills to assess, motivate, educate and train the population and you will be situated to move quickly into this advancing field of employment.
This diploma program will position you to find employment as a personal trainer, health coach, group fitness and activity leader in public and private healthy active living clubs/ agencies (fitness and recreation), workplace fitness programs and the fitness industry.
Opportunities exist for graduates to pursue a University education (subject to grade requirements):
Bachelor of Science in Exercise Science at Lake Superior State University
Bachelor of Science in Kinesiology at University of Guelph-Humber
Bachelor of Health Science in Kinesiology at the University of Ontario Institute of Technology.
Fees & Costs
Domestic
International
Tuition
Ancillary
Tuition
Ancillary
$2,716.50
$1,150.00
$15,469.40
$1,800.00
These fees are for the 2023-2024 academic year (year 1 of study), and are subject to change. Please visit your Student Portal to view your Schedule of Fees.